Posted on
Thu, Mar 17, 2011 : 3:59 p.m.
Over student objections, University of Michigan regents approve Rick Snyder as commencement speaker
By Kyle Feldscher
The University of Michigan Board of Regents voted unanimously Wednesday to continue a university tradition by having Gov. Rick Snyder give the spring commencement address, one day after students protested the invitation.
Regents voted to award Snyder the honorary degree of doctor of laws and will continue the university tradition of first-term governors giving the spring commencement address, president Mary Sue Coleman said. Spring commencement takes place April 30.
"The governor knows the University of Michigan commencement ceremony well, having earned three degrees there and he is looking forward to this speech," she said.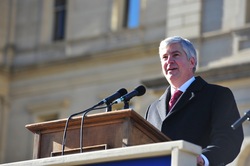 Ryan J. Stanton | AnnArbor.com
The university's
announcement of Snyder as commencement speaker
earlier this week was greeted with outrage from many U-M students, including students who protested at the Diag and the
Fleming Administration Building
Wednesday.
Some students voiced their protests directly to regents Thursday at their meeting at the Westin Book Cadillac Hotel in Detroit.
Zach Goldsmith, who organized the protest on Wednesday, said he came to the meeting to voice "in the strongest terms" his opposition to Snyder being selected commencement speaker.
He chastised regents and Coleman for holding Thursday's meeting in Detroit, when many students in Ann Arbor disagreed with the decision.
"This decision (to hold the meeting in Detroit) shows the premium you place on student participation," he said.
Goldsmith said he was insulted that his parents and students at the university would have to hear Snyder give explanations for his budget proposal, which includes large cuts to public education at the K-12 and state university levels.
He said the university may have extended the invitation to Snyder to speak at commencement but the students did not.
"Rick Snyder doesn't represent me, he doesn't represent my class and I hope to hell he doesn't represent my university," Goldsmith said.
Several regents defended the decision to invite Snyder to give the commencement address.
Regent Laurence Deitch said he was born a Democrat and will die a Democrat but still believes it's important to honor university tradition of inviting the governor to speak while also respecting freedom of speech.
He said Snyder is about as passionate an alumnus as he knows and he is looking forward to hearing him speak. But, he said he wouldn't hold it against U-M students who wanted to honor another university tradition — protesting.
"I'm looking forward to another terrific graduation," he said. "And, if some of our students want to protest and picket, that's another part of the Michigan tradition as well."
Regent Olivia Maynard agreed with Deitch, who said about half the people who heard President Barack Obama speak in Michigan Stadium last year didn't vote for him for president. She said it's important to honor the position and the role of the governor.
"You don't have to agree with him on everything, but it's valuable to students and parents who want to hear it," she said of Snyder's upcoming speech.
Snyder won't be the only person receiving an honorary degree from U-M during the spring commencement ceremony.
Among the notable names who will be receiving degrees will be William Clay Ford, Jr., executive chairman of the Ford Motor Company board of directors, businessman Stephen Ross and filmmaker Shelton "Spike" Lee.
Ford and Ross will receive doctor of laws degrees and Lee will receive a doctor of fine arts degree.
Kyle Feldscher covers K-12 education for AnnArbor.com. He can be reached at kylefeldscher@annarbor.com or you can follow him on Twitter.