Posted on
Thu, Oct 25, 2012 : 5:57 a.m.
Enrollment trends: Out-of-state students form 42.6 percent of University of Michigan's freshman class
By Kellie Woodhouse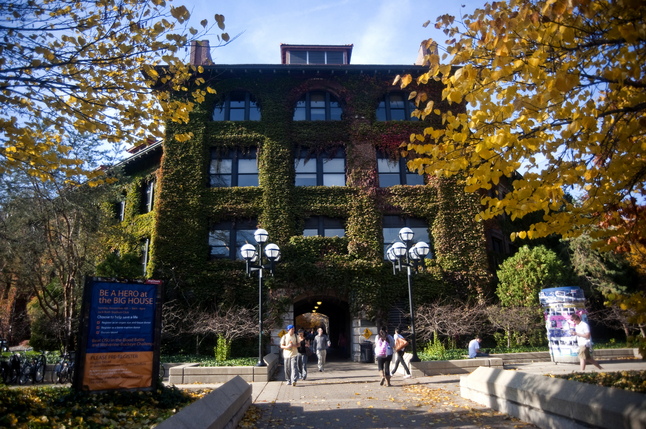 Joe Tobianski | AnnArbor.com
The number of out-of-state students at
University of Michigan
's Ann Arbor campus has risen over the past decade.
Out-of-state and international students now comprise 42.6 percent of this fall's freshman class, outpacing non-resident enrollment levels of recent history.
The ratio represents an uptick of 2 percent from the year before and 7.1 percent from fall 2009, when 35.5 percent of freshmen were non-Michigan residents.
Non-resident enrollment levels from fall 2002 and fall 2009 were similar, rising just 0.3 percent in seven years. During that period, however, annual non-resident enrollment fluctuated between 34 percent and 39.5 percent.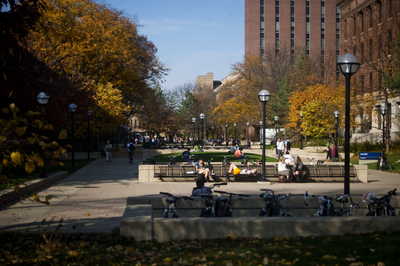 Joe Tobianski | AnnArbor.com
"We are very much on the minds of many out-of-state students," U-M admissions director Ted Spencer said shortly after releasing fall 2012 enrollment figures Tuesday.
"We were able to achieve a goal of admitting a slightly larger number of students from out of state."
Over the past decade, the size of U-M's freshman class has grown significantly, increasing 19 percent since 2002. An analysis of enrollment figures shows that the vast majority of growth has come from outside Michigan.
For example, in 2002 U-M enrolled 1,827 non-resident freshmen, 801 fewer out-of-state students than this year. Also in 2002 overall freshmen enrollment levels were at 5,187 — 984 students fewer than this year. Of the enrollment difference between those two years, roughly 81 percent is comprised of non-resident students.
Although the recent increase in non-resident enrollment was deliberate, Spencer — who has sat on a university task force titled "Marketing U-M to Non-resident Undergraduate Applicants" — was mum on whether the uptick would continue.
"I don't know that we have made any official statement about where we are going with that," he said.
Yet U-M President Mary Sue Coleman has said Michigan's 15 state universities need more non-resident enrollees.
"As a state, if you look at all 15 universities, we are underperforming in terms of our out-of-state student population," she said on May 31, during the 2012 Mackinac Policy Conference. "That is, we have capacity, and these students come paying the full freight. They actually add tremendously to the economy in the state of Michigan."
Non-resident freshmen pay $39,122, or $26,118 more than resident freshmen. Additionally, out-of-state students received less per-student university-sponsored financial aid than residents.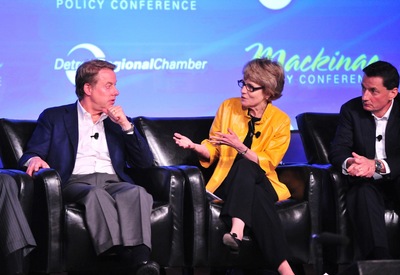 Ryan J. Stanton | AnnArbor.com
During a decade of declining state funding, the additional revenue brought by non-resident freshmen is budget-friendly.
The nonprofit organization Business Leaders for Michigan estimates that raising Michigan's out-of-state enrollment to that of comparable universities outside the state could net $200 million in increased tuition over four years.
Yet the issue of non-residents enrolling in universities that are partially taxpayer funded is a controversial one. Former U-M regent, and current GOP regent candidate, Dan Horning says Michigan's flagship public college is "letting too many out-of-state students in.
"The focus on recruiting out-of-state students has reached its tipping point and it's at the detriment of our qualified in-state students," he said.
Enrollment, however, can be difficult to gauge ahead of time. Although officials may aim for a goal, results can vary. The number, and demographics, of admitted students who enroll fluctuates year to year.
In fall 2000, out-of-state first-year enrollment was 41.6 percent (the second-highest non-resident rate in recent history). The next year it dropped to 36 percent and declined again the following year.
AnnArbor.com was able to review freshmen enrollment figures dating back to 1998 and, since then, no class experienced a higher out-of-state rate than the fall 2012 class.
A tough Michigan climate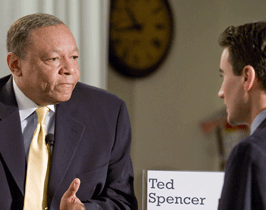 AP Photo
Qualified Michigan students who apply to U-M get in, Spencer says.
However, over time U-M has become more prominent and, as a result, more selective. Each year, the academic threshold for applicants rises.
Meanwhile, the number of Michigan high school graduates —qualified or otherwise— is shrinking each year.
A recent Center for Michigan report found that the number of Michigan high school graduates could drop from 117,750 students in 2008 to 91,870 by 2020.
This year, 100,096 students, out of 134,672 seniors, graduated from Michigan high schools, according to state figures.
"Make no mistake about it: We don't want to bring anyone here, no matter who they are, and put them in a position where they're going to fail," said Spencer.
Michigan high schoolers aren't applying in full-force, either. Less than 10 percent of high school graduates in the state applied to U-M.
U-M received the bulk of 2012 freshmen applications from non-resident students. Roughly 32,500 non-residents applied to the Ann Arbor school, versus nearly 9,800 residents, according to Spencer.
Over the past decade out-of-state applications have risen, but when the Common Application was introduced three years ago —allowing students to apply to many states using a form application— they spiked even further.
For fall 2012, U-M admitted more than 15,500 students. Acceptance rates are generally higher among in-state students than their out-of-state counterparts.
"You have to admit more out-of-state students in order to get one student," Spencer said."The yields for in-state students are in the range of 66 to 67 percent, and for out-of-state students it's 21 to 23 percent."
As the school hones its marketing to non-resident students, U-M has also tried generating more interest from residents. Spencer said U-M visited more Michigan high schools last year than ever before.
"How do we balance [more non-resident applications] with a decreasing number of students from high schools in Michigan?" he asked. "The volume itself [is an issue]. There are larger numbers of students graduating in high school from places like Texas and California, whereas in the Midwest numbers are going in the other direction."
Interestingly, recent data from the university suggest that in-state students drop out less than out-of-state students. Non-residents, on the other hand, graduate quicker, data show.
Kellie Woodhouse covers higher education for AnnArbor.com. Reach her at kelliewoodhouse@annarbor.com or 734-623-4602 and follow her on twitter.