Posted on
Mon, Oct 25, 2010 : 8:34 a.m.
University of Michigan sets record for enrollment with 41,924 students
By David Jesse
Mark Rollins has noticed a few more students than usual in the libraries, classrooms and residence halls around the University of Michigan.
"It feels like there's more students here — not a ton more, but enough that you notice," the fourth-year student said Friday afternoon while studying on the Diag.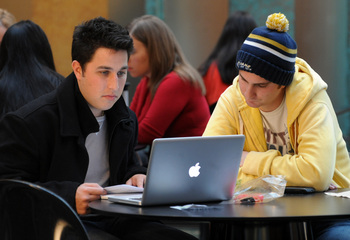 This morning, university officials confirmed Rollins' observations, saying the official enrollment in the university this fall is at an all-time high.
A total of 41,924 students have enrolled, the university's Office of the Registar said.
Last year, there were 41,674 students. Of those, 26,208 were undergraduates and 15,466 were graduate students.
The number of graduate and professional students increased by 6.7 percent this fall, while undergraduates increased by 3.1 percent. There were 27,027 undergraduate students and 14,897 graduate students.
Of the undergraduate students, 17,400 were resident students and 9,627 were non-resident students. The university reported 1,644 of the undergraduate students were international students.
Of the graduate students, 6,772 were resident students and 8,125 were non-resident students. In addition, 3,630 graduate students were international students, the university reported.
The largest freshman class ever in the university's history boosted the growth.
Freshman applications for 2010 were up 5.5 percent to a record-setting 31,613, and offers of admission were up 6.9 percent. The freshman class has 6,496 students.
The university had more students accept offers than they were planning on, Ted Spencer, the director of undergraduate admissions said. He said the university will continue to aim to have a freshman class of about 6,000 students.
"This year is more of an anomaly," he said. "It does not change the number of students we want to see admitted each year."
Spencer said university officials aren't clear why a higher percentage than normal decided to accept the university's admission letter and enroll.
"We worked very hard throughout the summer to make sure they are still experiencing the same (university) that students in smaller classes experienced," he said.
The numbers also showed a slight uptick in the percentage of minority students on campus — but the university cautioned about reading too much into those numbers.
"Nationwide, the 2010 incoming class is the first to be admitted under the federal government's new demographic classification system," the university said in its release. "The Higher Education Opportunity Act requires all institutions of higher education to collect and report data on race and ethnicity in a new way, which is not directly comparable to previous years. Overall totals and grouped subtotals are fairly comparable, but disaggregated figures for specific races and ethnicities are not.
"Using the new reporting guidelines, underrepresented minority freshmen constitute 10.6 percent of the incoming class. This represents an increase from the prior year, in which underrepresented minorities accounted for 9.1 percent of the incoming class under the previous reporting categories. "
"Prior to 2010, counts are based on what individuals considered their primary race/ethnicity," said in an updated release. "Beginning in fall 2010, students no longer identify their primary race/ethnicity and are counted in each race category they indicated was applicable. The subtotal and total are unduplicated counts, and beginning in 2010 the detail may add to more than the total."
According to the university, 76.2 percent of the entire student body is white; 14.7 percent is Asian; 6.1 percent is black; 4.8 percent is Hispanic and 1.3 percent is Native American.
David Jesse covers higher education for AnnArbor.com. He can be reached at davidjesse@annarbor.com or at 734-623-2534.