Posted on
Fri, Mar 11, 2011 : 2 p.m.
University of Michigan officials solicit public input on the campus trespass policy
By Juliana Keeping
A decade-old trespass policy is under review, University of Michigan officials say.
Suellyn Scarnecchia, vice president and general counsel, said at a press briefing Friday that concerns from faculty sparked a review of the trespass policy, as did complaints from the American Civil Liberties Union over the policy's use to ban former assistant attorney general Andrew Shirvell in September.
Now, U-M officials are seeking the public's input in the revision process. The school has created a website aimed at shedding light on potential changes to campus bans.
Friday, Scarnecchia stopped short of saying the school has abused the policy used since 2000 to ban for life 2,050 individuals from portions of or the entire campus.
Shirvell, Scarnecchia said, was not banned over the content of his message, which included decrying the openly gay student body president for months on a blog and in person for a so-called "radical homosexual agenda." Rather, he was banned for a "pattern of behavior," she said. A ban remains in place aimed to keep Shirvell away from the student.
The Washtenaw County prosecutor's office disagreed. Shirvell was never charged with stalking after campus detectives submitted their investigation for approval. But he was fired from his public position for waging his campaign against the student on company time. The ACLU of Michigan and the student chapter of the group weighed in on the issue following an Oct. 24, 2010, report on AnnArbor.com that detailed the use of the policy Shirvell's banishment, as well as a faculty member and student who had complained to supervisors shortly before they were banned.
Scarnecchia said the trespass policy has been used to keep criminals who steal from students and even staff who have threatened gun violence to peers from campus. She pointed out violent incidents in recent years, such as the shooting deaths at Virginia Tech.
Stories gathered by AnnArbor.com show a wide application of the lifelong banishments. Among them, a lifelong ban issued to an Indiana doctor and Michigan alumnus who said he was banned from campus after he got into a shouting match at a Michigan football game.
Echoing concerns from the ACLU of Michigan and a student chapter of the civil liberties group, Scarnecchia said lifelong bans and an appeals process that lacks a timeline for an appeal are major problems. Freedom of speech and expression are vital to campus, she said. March 4, the ACLU wrote to Michigan President Mary Sue Coleman and provided its own analysis of how the policy could be revised.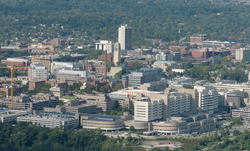 Revisions Michigan officials are considering mean appeals to trespass warnings would be scheduled within a month and decisions issued within 10 days. Michigan officials are considering implementing a time frame to the bans instead of letting them continue indefinitely. Under the current policy, only the chief of police can appeal a "trespass warning." Those who violate the trepass policy could be arrested or fined.
It's not yet clear if a new policy would apply retroactively to a long list of banished individuals, Scarnecchia said.
Meetings with at community, faculty and student groups, as wells public safety departments at U-M's Flint and Dearborn campuses are planned in upcoming weeks to create the best possible policy, she said. The hope is a new policy will be in place by May. Now, each campus has its own policy.
The university is soliciting comments from the public on the best way to revise the policy at trespasscomment@umich.edu, U-M spokesperson Rick Fitzgerald said.
Juliana Keeping is a health and environment reporter for AnnArbor.com. Reach her at julianakeeping@annarbor.com or 734-623-2528. Follow Juliana Keeping on Twitter