Posted on
Thu, Jun 27, 2013 : 5:58 a.m.
Michigan Stadium updates: Paint job and new 48-foot-wide marquee installation underway
By Kellie Woodhouse
A few fresh faces on the field won't be the only new element greeting football fans during University of Michigan's first home game at the Big House this fall.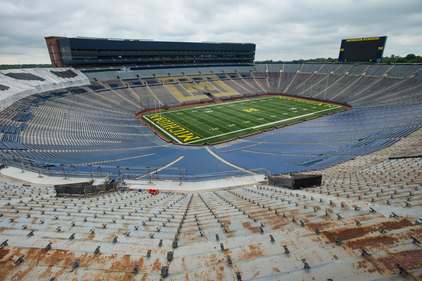 Courtney Sacco | AnnArbor.com
They'll also be experiencing a stadium that's been repainted with roughly 3,500 gallons of paint and adorned with a new 48-foot-wide marquee.
Michigan Stadium's $6 million paint job began in April, is roughly half complete and will finish mid-August. The $2.8 million marquee is being installed now and will be fully functional by late July. Crews are connecting it to a control room in Crisler Center.
The video marquee is located between Michigan Stadium and Crisler Center and is visible from Stadium Boulevard. It has audio capabilities, stands 21 feet above the ground and is 27 feet tall and 48 feet wide.
As a comparison, the stadium scoreboards are 62 feet tall and 108 feet wide.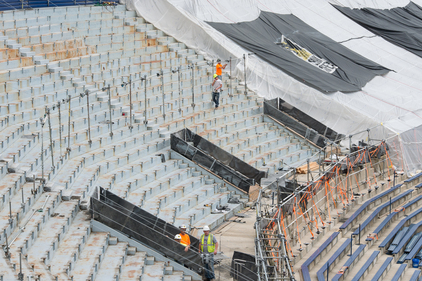 Courtney Sacco | AnnArbor.com
"It's very large," said Margie Teall, an Ann Arbor councilwoman representing residents that live near Michigan Stadium. "It feels out of scale for the neighborhood it is in. ... It's a huge stadium, so I understand that but I don't know how badly they needed to have it be that big."
Teall says the marquee brings a new commercial element to the lower Burns Park neighborhood near the stadium. The same kind of electronic board being installed outside the stadium now was prohibited by the city council during a June meeting. The council restricted the use of electronic billboards in the city and passed limits on the size and brightness of illuminated signs.
Added fellow Ward 4 councilwoman Marcia Higgins: "I am not against digital billboards but I think it also gets defined by the scope and the size and the brightness effect." Higgins said she is worried the board will be a distraction to motorists.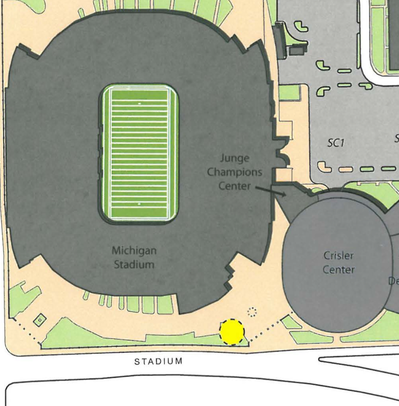 Teall and Higgins say nearby residents haven't formally approached them with complaints about the installation.
"It will be interesting to see what my residents have to say about it," Higgins said. "It's kind of a wait-and-see moment."
Dave Ablauf, an associate athletic director who handles media inquiries, said the board will host promotional material for the athletic department —such as game times and athletes of the week— during weekdays. He said the athletic department plans to limit the use of live video to gamedays. He said the placement of the board between Crisler and the stadium is strategic, as those venues are the most heavily visited.
"It will be like just another marquee that you see at other sports venues," Ablauf said.
U-M athletic director Dave Brandon has said the marquee is in step with the electronic displays featured by other major college athletic programs. "It happens to be across the street from a golf course so it won't annoy anybody," he said when proposing the marquee to the U-M Board of Regents last year.
Not far from the marquee installation, roughly 50 workers are repainting the inside and underside of the Michigan Stadium bowl. Crews are using tools to abrasively blast the old coating off the stadium and then re-applying paint using airless spray pumps. The process is loud and Higgins said she's received noise complaints from some of her Ward 4 constituents.
"It's a very large project in a short amount of time," said Dave Gore, a vice president of the Michigan-based Niles Industrial Coatings, which is performing the job using paint from a Pittsburgh-based company.
Niles also has painted Michigan State University's Spartan Stadium.
Kellie Woodhouse covers higher education for AnnArbor.com. Reach her at kelliewoodhouse@annarbor.com or 734-623-4602 and follow her on twitter.