University of Michigan students hold alternative St. Patrick's Day party on the diag
Posted on Sun, Mar 17, 2013 : 1:39 p.m.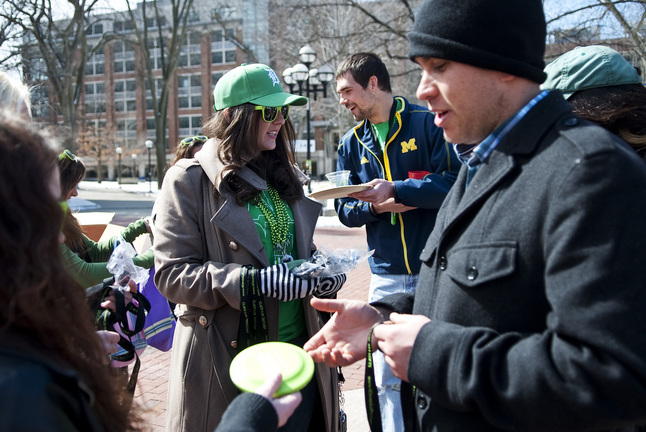 Daniel Brenner | AnnArbor.com

While local bars happily supplied their St. Patrick's Day patrons with alcohol, University of Michigan Central Student Government wanted to make sure students and community members were well-fed and hydrated.

CSG gave away pizza, bagels, and bottled water at its second annual St. Patrick's Day Tailgate from 10 a.m. to 2 p.m. Sunday on the U-M Diag in front of the Hatcher Graduate Library.

"It's providing a safe and fun alternative to going to the bars," said Jill Clancy, chief programming officer for CSG.

The event featured The Traveling Photo Booth, music by DJ Styles and a raffle to win assorted M Den merchandise. A troupe from O'Hare School of Irish Dance performed in the morning.

"This is wonderful!" said Katie McNally, a U-M senior who was sitting on the ground eating pizza. "This is a good spot for people to get free food, which will help them sober up."

The CSG Health Issues Commission was at the event handing out condoms and free metal U-M water bottles. There were also Medical Amnesty Awareness cups that students could take.

According to CSG, last year's event saw more than 3,000 students participate. Attendance this year seemed significantly slimmer, but Clancy estimated that between 1,500 and 2,000 people stopped by to partake in the festivities. She pointed out that the weather was significantly more accommodating last year.

"There's not as many people as we expected but it's been a fun atmosphere and I'm happy we can be here to give food to students," said Becca Liebschutz, chair of the CSG Student Safety Commission.

The event cost $15,000, including $3,000 worth of pizza and $1,600 worth of M Den merchandise. CSG is funded by student fees and its total budget for the winter semester was $340,704.

CSG donated leftover food to the Shelter Association of Washtenaw County.