With poll:

University of Michigan students push for gender-neutral housing

Posted on Tue, Dec 28, 2010 : 6:03 a.m.
A proposal to allow gender-neutral housing in the University of Michigan's residence halls is now awaiting review and action by U-M's housing department.
A group of students formed the Open Housing Initiative and drafted a proposal, which was recently submitted to the university's housing administrators.
Their goal is to give students — especially those in the lesbian, gay, bisexual and transgender communities — more choices when they pick where they want to live and with whom while going to school.
Currently, students are assigned roommates of the same gender, although the university has exceptions for transgender students.
"University Housing received the Open Housing proposal, and we appreciate the considerable effort and thought the students have put into the proposal," housing spokesman Peter Logan said in an e-mail. "Their recommendations are being reviewed and discussed among representatives of the student group, Housing and Student Affairs, and we expect that process to continue for awhile. At this point, I am not aware of any timetable."
The students have been working for several years on the plan and have made revisions to it over time.
The current plan offers a couple of options, said Rebecca Egler, a student working on the initiative.
The first, and preferred option, would be to allow students of different genders to room together. In that case, the students would have to cross-match, or ask to room with a specific person.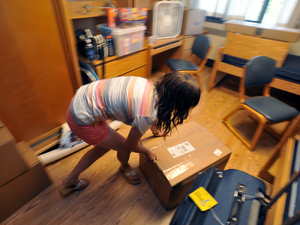 File photo
The philosophy behind that is that students themselves are best equipped to make decisions about whom they should live with, Egler said.
Making students ask for a specific person of a different gender, rather than just a generic person of a different gender, should help alleviate safety concerns, the students believe.
The other option would be to make a floor of a dorm gender-neutral. But that's not ideal, Egler said, because students would feel like they were being set apart and not included in the overall community.
The university has some female-only housing options, but the majority of its housing options are co-ed.
The university already has a policy on gender-neutral living.
It says, "University Housing works to provide a safe, comfortable and supportive living experience for all students living in Michigan's residential facilities. We offer gender-neutral housing that is supportive of transgender individuals.
"If you are interested in a gender-neutral room or apartment space, we ask that you contact the Housing Information Office as soon as possible. We can provide you with a personal and confidential assessment of the available options."
Egler said most students are supportive of the move.
However, it has sparked controversy before, including from alumnus Andrew Shirvell, who criticized current student body President Chris Armstrong for his support and advocacy for the change.