Posted on
Fri, Sep 23, 2011 : 5:58 a.m.
University of Michigan to announce new sustainability goals
By Kellie Woodhouse
University of Michigan President Mary Sue Coleman will announce a new set of sustainability goals for the university during EarthFest next week.
The speech, which will be given at 11 a.m. Tuesday at the Hatcher Graduate Library, will "alter the face of campus and, more important, the character of U-M teaching, research, operations and public engagement," according to a news release issued on Thursday.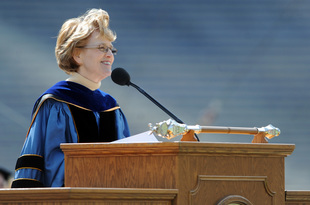 Melanie Maxwell | AnnArbor.com
Andy Berki, manager of U-M's Office of Campus Sustainability, said the speech marks "something that has never been done before" on campus.
But the university is releasing few details about the speech.
University spokesman Jim Erickson said "we're really holding these things under wraps until the announcement date."
Erickson did say that the goals were a result of a two-year collaborative effort.
"More than 500 students, faculty and staff participated in this two-year process of defining the goals," he said.
As a part of that process, a Campus Sustainability Integrated Assessment report was created. In that report, an energy team suggests reducing emissions by 25 percent and purchasing hybrid buses.
According to Don Scavia, director of U-M's Graham Environmental Sustainability Institute, some of the goals relate to transportation and the reduction of greenhouse gases and waste.
In the report, a food committee also suggested that the university remove trays from dining halls, replace bottled water with tap water and increase composting efforts. Additionally, the committee wanted the university to obtain 20 percent of its food from local sources by 2020.
Other universities throughout the nation are also embracing sustainability on their campuses. University of California at San Diego has installed dozens of solar panels, U.C. Santa Cruz has gotten rid of bottled water and dining trays and University of Washington has three farms on campus and an extensive recycling center.
Additionally, with the iPad, Nook and Kindle becoming increasingly popular with students, some campuses are trying to become "paperless," including Drake University in Iowa.
At U-M there's long been a debate about providing an alternate from cars for transportation between North and Central campus. Trolleys, an aerial tram or a light rail have all been discussed.
But it's unclear whether aspects of the U-M plan will be similar to other colleges' efforts.
"It's going to be pretty impressive," Scavia said.
According to a project report by the OCS, U-M has more than three-dozen sustainability projects underway, including the development of a sustainability master plan for design and construction and a wide-scale effort to make university labs more sustainable.
The announcement can be watched online here.
Also on Tuesday, EarthFest will be taking place on the Diag.
Kellie Woodhouse covers higher education for AnnArbor.com. Reach her at kelliewoodhouse@annarbor.com or 734-623-4602 and follow her on twitter.