Posted on
Thu, Apr 18, 2013 : 4:21 p.m.
University of Michigan to levy $65 per-term student fee to pay for $173M in gym, union renovations
By Kellie Woodhouse
Correction: An earlier version of this article said the $65 student fee would be annual. The fee will actually be levied each term.
The University of Michigan Board of Regents agreed Thursday to begin levying a $65 per term student fee so the school can fund renovations to its gyms and unions - projects that will cost an estimated $173 million.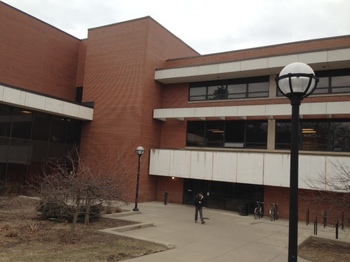 U-M's gyms are
often criticized
as aged, crowded facilities with out-of-date equipment and lackluster ambiance. They're meant for use by the general student body and not funded by the athletic department.
"We want our students to be healthy, to work out," said board chair Denise Ilitch. "I am in full support of this."
Meanwhile, U-M's Michigan Union is the third-oldest student union in the nation, according to officials.
U-M students already pay an $80 registration fee, about $8.70 in student government fees and an $8.50 legal fee. Provost-elect Martha Pollack said the university has relatively few fees compared with other institutions. Resident tuition and fees at U-M are about $13,000 a year.
The fee will be included in need-based financial aid packages.
There is no set revenue stream that pays for U-M's three recreational facilities — which were constructed in 1928, 1976 and 1977 — and that would naturally fund renovations.
Not all regents agreed on the fee.
"We have many things we'd like to have. We are embarking on a campaign and we are looking at opportunities to do those thing," Regent Andrea Newman said. "I would be remiss to support a fee on students for the next 30 years without feeling that we had done everything we could to fund the unions in a different way.
"I personally am not in favor of raising mandatory fees. I think if students had a choice on whether or not they'd participate I would feel more comfortable," she continued.
Kellie Woodhouse covers higher education for AnnArbor.com. Reach her at kelliewoodhouse@annarbor.com or 734-623-4602 and follow her on twitter.