Posted on
Mon, Nov 14, 2011 : 4:05 p.m.
University of Michigan to renovate one North Campus dormitory, close another
By Kellie Woodhouse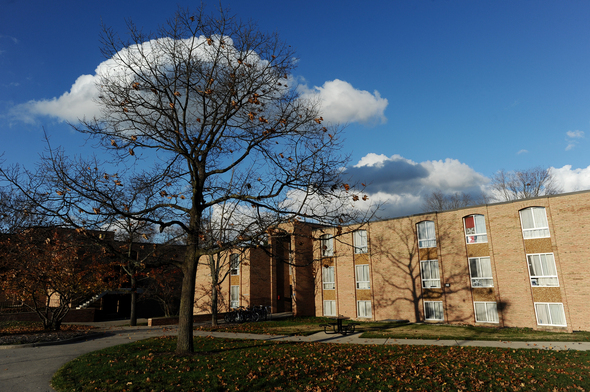 Melanie Maxwell I AnnArbor.com
A week after announcing that it will close one
North Campus
dormitory, the
University of Michigan
will ask the
Board of Regents
to approve a $12 million renovation to another North Campus residence hall.
A major renovation for the 575-bed Vera B. Baits Houses II residence hall, which requires significant architectural, mechanical, and electrical improvements, will come before regents on Thursday, E. Royster Harper, U-M vice president for student affairs, said in a memo.
This comes on the heels of an announcement that the university will permanently close the 571-student Baits I —the sister dorm of Baits II— next year because it does not meet the mission of University Housing.
"We came to a crossroad," said U-M Housing Communications Director Peter Logan. "One of the guiding principles of our residential life initiative has been to try to create a greater sense of neighborhood, and (Baits I) is not a community that students have really embraced wildly over the years."
Logan said the minimal amenities and its distance from Bursley Dining Hall put Baits I at a disadvantage from other U-M dormitories.
Major upgrades to the dorm's boiler system, fire suppression system and building infrastructure are necessary to keep it on line and would cost at least $6 million.
However, renovations to the dorm —built in 1966— don't make sense, Logan surmised.
"And it's still no closer to Bursley dining, even if we put some money into it," he said.
For U-M freshmen Kendall Zemmin and Madison Hoase the distance between Baits I and Bursley Dining Hall is a significant inconvenience.
"There is no food space nearby. We have to walk through the woods to eat," said Zemmin. "We're just kind of freaked out to walk by ourselves at night."
After a spate of sexual assaults this summer, the freshman said they are extremely cautious about walking alone through the isolated grounds of North Campus. Hoase said she will usually ask a friend to go to the dining hall with her when it's dark. If no one is available, she will usually skip the meal.
"The location is a challenge," agreed freshman Clare Rasmussen, also a Baits I resident. "Not only did we get stuck on North Campus, we got the stuck with the worst building on North Campus."
But Logan said that Baits II, which is significantly closer to Bursley dining hall, doesn't face the same problems as its beleaguered sister.
Three years ago the university replaced the building's boilers and upgraded its pipe and vent systems.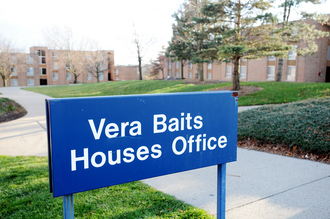 "That investment we put into Baits II, plus the fact that it's much closer to Bursley Hall and residential dining has made it a better location and a better investment than Baits I," Logan said.
While Baits II is clearly in more preferable location than Baits I, some students say it's still too isolated.
"I don't like it. There's no cafeteria close by and in the winter it's going to be a hassle to eat," said freshman Ben Guidos.
According to Guidos, the proposed renovation —which includes new fire detection, alarm, and suppression systems, wireless high-speed network access, new energy-efficient windows and roof systems and new interior finishes and furnishings— is necessary.
"I woke up (one day last week) and there was water in my room, all over my desk and window," he said, adding that several of his fellow students have complained of leaks as well.
The renovation, which is budgeted at $11,950,000, will also reorganize and community areas in the dorm, creating spaces for academic activities, Harper said in the memo.
The proposed $12 million renovation pales in comparison to the scope of recent central campus dorm renovations. In a five-year span, U-M will have spent over $450 million on dorm renovations, including a $49 million renovation to the 525-bed Couzen's hall and the current $56 million renovation to Alice C. Lloyd Hall, which houses roughly 560 students.
On Thursday, the regents will also discuss the schematic design for a $116 million renovation to East Quadrangle, which is home to about 860 students. The Central Campus dorm was built in the 1940s.
Kellie Woodhouse covers higher education for AnnArbor.com. Reach her at kelliewoodhouse@annarbor.com or 734-623-4602 and follow her on twitter.