Posted on
Wed, Feb 6, 2013 : 11:35 a.m.
University of Michigan top producer of Peace Corps volunteers
By Kellie Woodhouse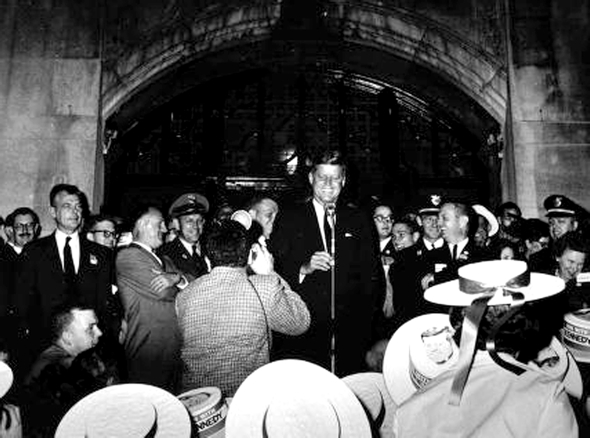 The idea for the
Peace Corps
was first launched at the
University of Michigan
and, more than 50 years later, the school continues to be one of the top producers of volunteers.
This year 93 U-M graduates are serving as Peace Corps volunteers, making the school the fourth largest producer of corp volunteers. Last year it was No. 5, according to the Peace Corps.
U-M is tied with the University of Colorado at Boulder for the No. 4 spot.
Since the agency was created in 1961, 2,515 Michigan graduates have served overseas, making U-M the No. 4 all-time producer of Peace Corps volunteers.
In an Oct. 14, 1960, speech outside the Michigan Union in Ann Arbor, presidential candidate John F. Kennedy challenged students to volunteer two years of their lives to help people in developing countries. In March 1961, shortly after assuming office, he signed the executive order creating the Peace Corps.
"How many of you who are going to be doctors are willing to spend your days in Ghana? Technicians or engineers, how many of you are willing to work in the Foreign Service and spend your lives traveling around the world? On your willingness to do that, not merely to serve one year or two years in the service, but on your willingness to contribute part of your life to this country, I think will depend the answer whether a free society can compete," Kennedy said then, according to a transcript of his speech. "I think it can. And I think Americans are willing to contribute. But the effort must be far greater than we have ever made in the past."
Peace Corps volunteers serve in more than 75 countries throughout Africa, Asia, the Caribbean, Central and South America, Europe, and the Middle East.
They work with a community overseas for 27 months, providing technical assistance in six program areas — education, youth and community development, health, business and information and communications technology, agriculture, and environment.
Of the 316 Michigan residents currently serving in the Peace Corps, 34 are from Ann Arbor. Ann Arbor ranks No. 4 in the nation among metropolitan areas for producing Peace Corps volunteers per capita.
Overall, 6,866 Michigan residents have served since the agency was created.
Top 5 Peace Corps producers:
1. University of Washington 107
1. University of Florida 107
3. University of Wisconsin-Madison 103
4. University of Colorado Boulder 93
4. University of Michigan 93
Kellie Woodhouse covers higher education for AnnArbor.com. Reach her at kelliewoodhouse@annarbor.com or 734-623-4602 and follow her on twitter.