Posted on
Mon, Oct 24, 2011 : 6 a.m.
University of Michigan wants to enroll fewer students next year
By Kellie Woodhouse
Related story: University of Michigan's switch to Common App expected to bump freshman applications over 40,000
The University of Michigan wants to see significantly fewer undergraduates enrolled in its Ann Arbor campus next year.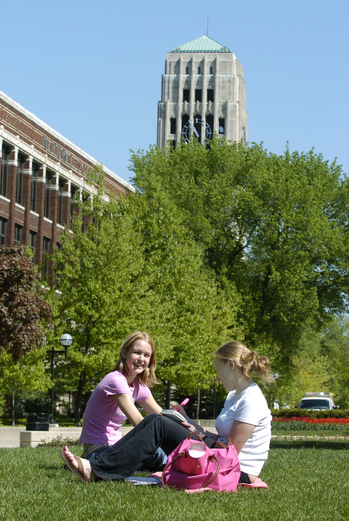 Approximately 27,400 students are enrolled as undergraduates this fall. That's 2,400 more than the school would like.
"We would really like to see that number around 25,000," said Ted Spencer, U-M admissions director. A smaller student body allows students to have more interaction with faculty, more elective options and smaller class sizes, he said.
But to get the right amount of students, the university needs to find the right admissions formula.
"We need to try to make sure that we don't admit more students (than necessary), but really admit (enough) to reach the target that we set for the beginning of the year," Spencer said.
This fall and last fall, the U-M was looking to enroll approximately 5,970 freshmen. However this fall the school was nearly 300 students off the mark, which is still a smaller margin of error than in 2010, when the school enrolled nearly 6,500 students. That was 500 more freshmen than U-M anticipated.
The university will once again attempt an enrollment of 5,970 next year.
"It may mean that we will admit fewer students," Spencer said.
This fall, the university offered admission to 16,073 students, compared to 16,006 a year ago, according to recently released U-M figures.
U-M increased its admissions offers slightly because the school expected a larger denial rate than years past. That's due to the university's switch to the Common Application, Spencer said. The new system makes it easier for students to apply to multiple schools, giving U-M more competition.
Spencer said the university plans on further tweaking its admissions formula.
After U-M's 2010 enrollment came in higher than expected, U-M President Mary Sue Coleman told the Michigan Daily that the university is "trying to shrink."
"We don't want this," Coleman said. "This isn't a planned increase in the student population."
Total enrollment at U-M this year is 42,716— a record high. About 57 percent of those students are out-of-state, compared to approximately 58 percent in 2010. Of freshmen, around 40 percent are non-residents.

The 792-student uptick marks a 2.8 percent increase in graduate students and a 1.4 percent increase in undergraduates. Of graduate students, about 56 percent are non-residents; approximately 37 percent of undergraduates are non-residents.
Non-residents account for approximately two-thirds of undergraduate applicants, Spencer said.
"The University of Michigan is very unique in that respect," Spencer said.
"We've been around since 1817. We have really been a very popular school for a number of students. We have over 500,000 living alums, and they live all over the world and all over the state."
Spencer said striking the right balance between resident and non-resident students can be tricky for U-M, which has obligations as a state school, but is also considered one of the top universities in the nation.
"We have to work at it very hard," Spencer said.
Spencer said that while the university is "competing with Harvard and Yale and Princeton and Penn," its commitment to Michigan students remains a priority.
"There is a strong desire to make sure that the citizens of the state of Michigan have a big advantage in being admitted to the university," he said.
Minority enrollment has also slightly decreased.
Underrepresented minorities represent 10.5 percent of the freshman class, compared to 10.6 percent last year.
Underrepresented minorities do not include Asians, which make up approximately 16 percent of enrollment at U-M. According to U-M statistics, 1,747 enrolled individuals applied from China. A total of 5,595 enrolled students applied from a foreign country.
Approximately 5 percent of U-M's student body is Hispanic. Another 6 percent is black and slightly more than 1 percent is Native American.
Kellie Woodhouse covers higher education for AnnArbor.com. Reach her at kelliewoodhouse@annarbor.com or 734-623-4602 and follow her on twitter.