Posted on
Mon, Jul 29, 2013 : 5:58 a.m.
University of Michigan's Blue Bike Program expands after successful year
By Chelsea Hoedl
The Blue Bike Program, a bicycle rental initiative created to promote sustainable transportation on the University of Michigan's campus, continues to expand.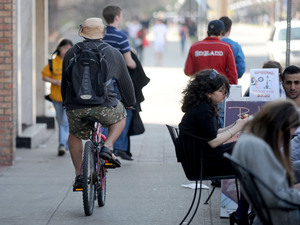 Angela J. Cesere | AnnArbor.com
The program, run out of Outdoor Adventures, 336 Hill St., allows university staff, faculty and students to rent bicycles for $5 a day, $10 for a weekend and $75 for the semester.
Blue Bikes added four new bicycles just before the winter semester. The new bikes were funded by the university's student government, which awarded the program $1,000 to expand. The program kicked in some additional funding so four bikes could be purchased.
Almost immediately after launching the program in fall 2012, the 15 bikes set aside for semester rentals were reserved, said John Swerdlow, assistant director of recreational sports for the University of Michigan.
"We were getting calls for our first rentals before we even had the bikes assembled," Swerdlow said. "All semester bikes flew out the door and we had to make a waiting list. We decided that if you have a semester rental you can renew it, so for next fall we already have a waitlist going."
The remaining 15 bicycles set aside for day rentals were taken out sporadically, Swerdlow said.
"I would say the day rental bikes were taken out about 5 to 10 times a week," Swerdlow said. "Over the summer we only held back 10 or 12 bikes for day rental so that there were more available to those who needed transportation during the whole semester."
Swerdlow said the majority of semester rentals were made by undergraduate and graduate students, while many of the day rentals went to friends or family of students visiting for the day and people in town for meetings or conferences.
Damages to bikes in the first year of the program were minimal, Swerdlow said.
"We've had to replace a number of pedals and spokes, but we consider that normal wear and tear," Swerdlow said. "One bike had trouble with its bearings, but other than that the bicycles made it through the year in great shape."
The program will continue to add bicycles as long as there is demand for it, Swerdlow said.
"I think it will be a sustainable program and we'll want to add more bikes, but we will want to wait until the bike share program launches," Swerdlow said. "Until we know what sort of effect the bike-share will have on rentals, we will hold off on adding additional bikes."
The multimillion-dollar bike-share program, under development by the Clean Energy Coalition, will allow participants to check out a bike from one kiosk and return it to a different location within the program.
If demand continues to grow, the Blue Bike Program plans to add 10 to 15 bikes a year, Swerdlow said.
"We would take a slow approach to it expanding," Swerdlow said. "If we continue to add bikes, winter storage will become a problem, so it's something we'll have to take on gradually."
All bicycles come with a helmet and lock. Regular safety checks are performed to make sure bicycles are safe.
Rentals can be made at Outdoor Adventures from noon to 6 p.m. Monday, Thursday and Friday and 10 a.m. to 6 p.m. Saturday and Sunday.
Chelsea Hoedl is an intern reporter for AnnArbor.com. She can be reached at choedl@mlive.com.