Posted on
Mon, Sep 10, 2012 : 2:58 p.m.
Up to 400 new residents, 900 jobs envisioned with redevelopment of 5 downtown Ann Arbor sites
By Ryan J. Stanton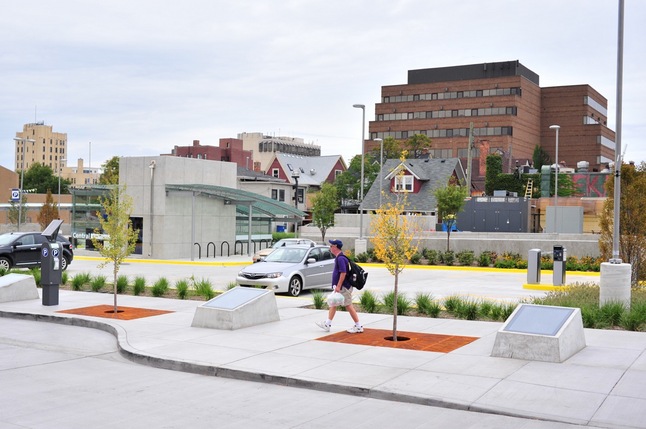 Ryan J. Stanton | AnnArbor.com
Downtown Development Authority
leaders released new figures on Monday showing the potential economic impact of redeveloping five city-owned properties in downtown Ann Arbor.
If the city were to go forward with the highest-density scenario — including a mix of residential, business and cultural uses — the DDA predicts there could be 350 to 400 new residents downtown, bringing $7.5 million to $8 million in new annual spending to the local economy.
In addition, there could be 800 to 900 new jobs downtown, increasing annual employee spending in the local economy by $5.4 million to $6 million. Looking at the broader regional impact, the DDA projects there would be an additional $33 million in total annual sales.
With the help of a land use economist, the DDA has come up with three different development scenarios for five city properties — Scenario A with buildings three to five stories tall, Scenario B with buildings three to eight stories tall, and Scenario C with buildings 10 to 14 stories tall.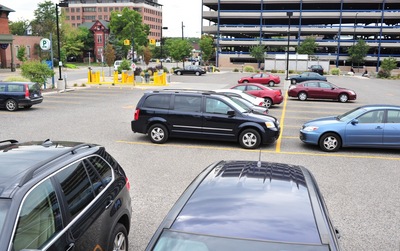 Ryan J. Stanton | AnnArbor.com
The economic impact figures were presented Monday to a group of about a dozen residents who attended the DDA's latest public forum as part of the
Connecting William Street
initiative.
At the request of the City Council, the DDA is leading the planning process for the five sites: The Library Lot atop the new underground parking garage off Fifth Avenue, the old Y Lot at Fifth and William, the ground floor of the Fourth and William parking garage, the Palio Lot at Main and William, and the Kline Lot at Ashley and William.
DDA board member Joan Lowenstein, a member of the Connecting William Street leadership and outreach committee, said the DDA board could vote on a set of recommendations as soon as November, with the City Council deciding how to move forward after that.
"We think that it probably will be in November or December," she said. "I think it would go to council around that time."
Under Scenario A, the DDA predicts there could be 100 to 150 new residents downtown, contributing $2.5 million to $3 million to the local economy — plus another 500 to 600 jobs, bringing $3.4 million to $4 million in new spending. The broader regional impact predicted is $6 million in total sales.
Under Scenario B, the DDA predicts there could be 50 to 100 new residents, contributing $1.5 million to $2 million to the local economy — plus another 900 to 1,000 jobs, bringing $6 million to $6.7 million in new spending. The broader regional impact predicted is $12 million in total sales.
Amber Miller, the DDA's planning and research specialist, said the three scenarios aren't suggestions — just possibilities to tease out public feedback.
Scenario C leaves open the possibility of a 330-room, 13-story hotel — plus 74 residential units and ground-floor retail — on the old Y Lot at Fifth and William.
It also envisions a 14-story mix of office space and 72 residential units, plus an anchor retail component, on the Library Lot, with some plaza space.
Over at the Kline Lot, under Scenario C, 15 stories of office, retail, entertainment and residential (95 units) are envisioned along with a cultural venue of some kind, and plaza space.
As for the smaller Palio Lot, Scenario C shows office space and ground-floor retail with 24 residential units and potentially some plaza space. The ground floor of the adjacent Fourth and William parking garage would include a small business incubator space under Scenario C.
The other two scenarios are less ambitious, but even Scenario B leaves open the possibility of a 180-room, seven-story hotel with ground-floor retail on the Library Lot, with additional office space and ground-floor retail at the other sites along William Street.
Scenario A envisions a three-story, 68-unit townhouse project on the Kline Lot, possible design improvements at the Palio Lot, facade improvements at the Fourth and William parking garage, and four stories of office and retail at both the Y Lot and the Library Lot.
Miller said the Blake Transit Center and downtown library — both of which are poised to undergo demolition and reconstruction — already draw significant traffic along William Street, but DDA officials believe the pedestrian experience could be improved.
"What we're hearing is there isn't really an interesting sidewalk experience," Miller said. "It's not very pleasant. There's not a lot that draws you down William Street. And there certainly is a lot of parking here, and what we've heard is the community wants something different. They want a more active, exciting sidewalk experience — something like Main Street or Liberty."
Miller pointed to Washington Street in front of Arbor Brewing Co., where there's outdoor dining, as one example of a great sidewalk.
"What we've done is highlight Ashley, Fourth and William," she said. "And as a baseline for any scenario moving, we would recommend some improvements to those streets. This would include things like wider sidewalks, additional lighting, street trees to make it feel more comfortable."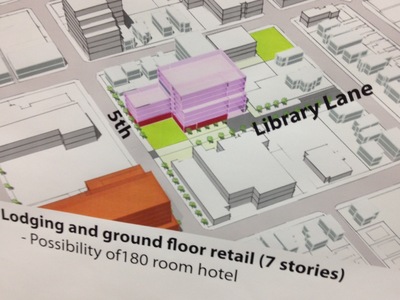 Ryan J. Stanton | AnnArbor.com
As for plaza space in the downtown, Miller said the DDA will be recommending making an investment in renewing and redesigning Liberty Plaza.
"We have heard that, for a downtown park, it really doesn't draw the numbers of people that should," she said. "One thing would be to increase the visibility so people feel more comfortable moving in and out of this space, and then also improving connectivity to the sites adjacent to it."
Though some have called for a downtown central park atop the Library Lot, Miller noted even under the most dense development scenario, there still would be an open space component.
She said there's a "no-build zone" contained on the southwest corner of the site that always was intended to accommodate a public plaza. She estimated it'd be about 5,130 square feet — or 1.25 times the size of Sculpture Plaza at the corner of Fourth and Catherine in Kerrytown.
Miller said it's important that the DDA understand what the community is comfortable with and that's why it's been soliciting feedback in various ways for several months now.
"The other pretty critical thing is project viability — so can a developer make it happen," she said. "Without that piece, you're not going to see a project come to fruition."
Miller cited statistics from a recent market analysis showing 1,300 new apartments could be captured in downtown Ann Arbor by 2016, as well as 500,000 square feet of office. She said that's in addition to what's under construction downtown at the moment.
"Demand for housing in our downtown is really strong," she said.
The market analysis found any retail generally should be small in scale, with the exception of recruiting an anchor retail tenant like Apple. As for a new downtown hotel, Miller's presentation stated: "Interviews and initial data analysis indicate lodging is supportable."
Kirk Westphal, a member of the Connecting William Street leadership and outreach committee, said he's not ready to suggest what the DDA or the city should do. But as a city planning commissioner, he knows the D1 zoning for the five sites calls for buildings up to 180 feet tall.
"All of these parcels are in the core D1 area, which calls for the highest density of land use in the city," he said. "Anything up to that is possible, and this is designed to explore the public's level of comfort with different scenarios. And not necessarily a distinct scenario of A, B, or C, but maybe a mix."
The city has made attempts before to seek development proposals for downtown properties that it owns, but by most accounts those have been largely unsuccessful.
"It wasn't always working. The developer and the community weren't always finding alignment," Miller said, hopeful the DDA's approach can prove successful.
"We're having a dialogue about what we want to see on these sites so we can be very clear with the development community," she said. "The second thing that we're doing differently is we're looking at five sites at once so we can understand how these sites work together to accomplish our goals."
Miller said the addition of 700-plus underground parking spaces with the new Library Lane garage brought capacity into the system to allow the DDA to talk about more residents and businesses downtown, but she acknowledged more parking is envisioned with more dense development.
Ryan J. Stanton covers government and politics for AnnArbor.com. Reach him at ryanstanton@annarbor.com or 734-623-2529. You also can follow him on Twitter or subscribe to AnnArbor.com's email newsletters.