Posted on
Mon, Feb 25, 2013 : 1:22 p.m.
Updated forecast: Up to 8 inches of snow headed for Ann Arbor
By Cindy Heflin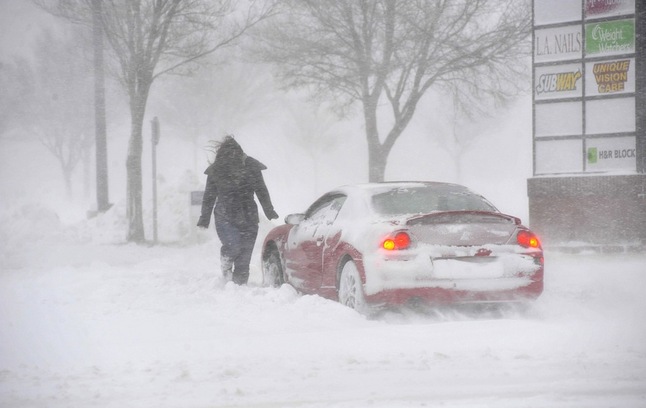 AP photo
What could be one of the biggest snowstorms of the season will start off Tuesday afternoon with a messy mix of snow and rain before eventually dumping up to 8 inches of snow on the Ann Arbor area, the National Weather Service says.
Most of that will come Tuesday afternoon and evening, said Matt Mosteiko, a meteorologist with the National Weather Service in White Lake Township, which does forecasting for all of southeast Michigan.
The storm, which brought blizzard conditions to the Texas Panhandle and parts of Oklahoma and Kansas Monday, will move in to the Ann Arbor area around noon or 1 p.m. Tuesday with a mixture of snow, rain and possibly freezing rain before switching over to all snow around 4 p.m. That's when the snow will begin accumulating at the rate of about an inch an hour between 4 and 7 p.m., Mosteiko said. Blustery conditions also are expected, with winds gusting to about 30 mph.
Another 2 inches is expected to fall before midnight and then another inch between midnight and 7 a.m.
Wednesday will bring intermittent snow showers and an additional 1 to 2 inches of snow. It will be mostly cloudy with a high around 34 degrees.
Whether we get all of that snow will greatly depend on the temperature, Mosteiko said. Tuesday afternoon temperatures should be around freezing, he said, but if the temperature is warmer than that and stays above freezing for several hours, then we'll get less snow accumulation and more rain.
Forecasters are watching this storm system as it moves across the country. Blizzard warnings were posted for the Texas Panhandle and parts of Oklahoma and Kansas. Forecasters were expecting up to 18 inches of snow in some areas. Farther north, winter storm warnings have been issued for parts of Kansas, Missouri and Illinois.
As the storm moves closer to Michigan, forecasters will decide, depending on the storm track and expected air temperatures, whether to change the current winter storm watch into a winter storm warning or winter weather advisory, Mosteiko said.
The biggest 24-hour snow accumulation so far this winter was 6.9 inches that fell on Dec. 26 and 27, according to records kept by Dennis Kahlbaum, University of Michigan Weather observer.
The snow from this storm is expected to be wet, heavy and hard to shovel, Mosteiko said. Some melting may occur Thursday when a high of 35 degrees is expected. There's also a 30 percent chance of snow showers Thursday.
Colder temperatures are expected later in the week, with a high around 31 Friday and highs in the upper 20s for the weekend.
For updated forecasts and weather conditions anytime, check AnnArbor.com's weather page.
Cindy Heflin is associate news director at AnnArbor.com. Contact her at cindyheflin@annarbor.com or 734-623-2572 or follow her on Twitter.