Posted on
Tue, Feb 26, 2013 : 8:19 a.m.
Winter weather advisory: Up to 6 inches of snow expected by Wednesday in Ann Arbor
By Cindy Heflin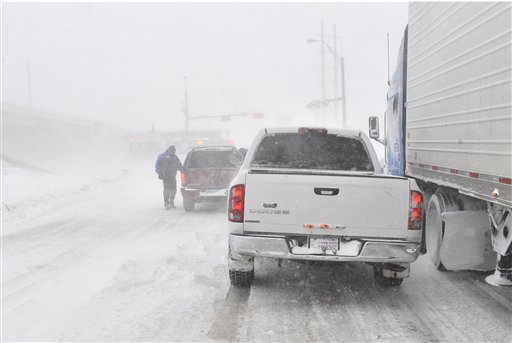 AP photo
Update: New winter storm forecast: 3 to 4 inches of snow expected in Ann Arbor
The winter storm heading for the Ann Arbor area Tuesday is expected to begin around 2 p.m. with a mix of rain, snow and sleet. It'll change over to all snow around 4 p.m., which is when it will start to accumulate, forecasters say.
The National Weather Service has issued a winter weather advisory effective from 3 p.m. Tuesday until noon Wednesday. The Ann Arbor area could get a total of about 6 to 6 and a half inches by the time it stops snowing Thursday, said Matt Mosteiko, a meteorologist with the National Weather Service in White Lake Township.
The bulk of that will come Tuesday night, when 3 and a half inches are expected to fall between 7 p.m. and 7 a.m. Wednesday. About an inch will fall before 7, Mosteiko said and another inch during the day Wednesday. One more inch is possible Wednesday night.
Temperatures around or slightly above freezing will keep any precipitation that falls before 4 from accumulating, Mosteiko said. And the temperature is only expected to dip slightly below freezing Tuesday night, keeping the snow wet and heavy.
Winds are expected to gust to near 30 mph during the day Tuesday and breezy conditions will continue overnight, meaning blowing snow could reduce visibility for drivers Mosteiko said.
Some melting could occur Wednesday as the high is expected to climb to 35 degrees. Thursday will bring a chance of snow showers and a high of 35 degrees under cloudy skies.
Ann Arbor will be feeling the effects of the same storm system that created blizzard conditions in the Plains and Texas Panhandle. Amarillo got 17 inches of snow Monday, the Associated Press reported. Thousands lost power in Texas and Oklahoma. Winter storm warnings were still posted Tuesday for parts of Kansas, Missouri and Illinois.
For updated forecasts and conditions anytime, check AnnArbor.com's weather page.
Cindy Heflin is associate news director at AnnArbor.com. Contact her at cindyheflin@annarbor.com or 734-623-2572 or follow her on Twitter.