Posted on
Fri, Nov 9, 2012 : 7:46 p.m.
Vehicle strikes and kills woman crossing Ann Arbor-Saline Road
By Cindy Heflin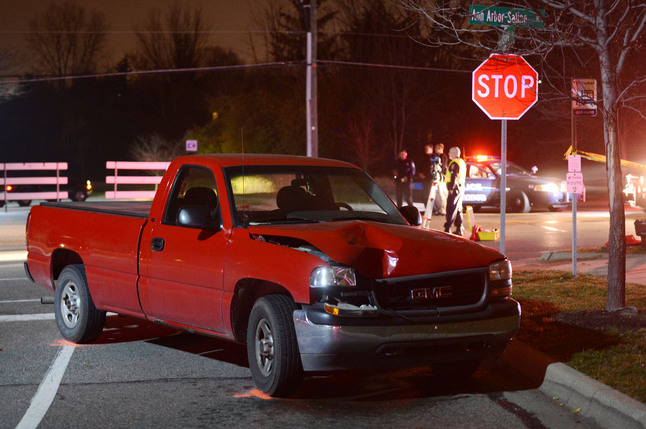 Melanie Maxwell | AnnArbor.com
Editor's note: This article has been updated with additional information from Ann Arbor police.
A 70-year-old Ann Arbor woman was hit by a pickup truck and killed on busy Ann Arbor-Saline Road north of Eisenhower Parkway Friday night, Ann Arbor police said.
The woman was crossing the street from west to east near Oakbrook Drive about 6 p.m. when a pickup truck, driven north by a 22-year-old Horton man, struck and killed her, police said.
Ann Arbor-Saline Road was closed for the accident investigation, snarling traffic throughout the area for hours. Northbound traffic was being diverted into the Cranbrook Village Shopping Center. Southbound lanes were closed at Main Street.
It was the second fatal pedestrian accident in two days in Washtenaw County. Thursday night, a 59-year-old Ypsilanti Township woman died after she was hit by a red Toyota sedan on Golfside Drive north of Washtenaw Avenue on the border between Pittsfield and Ypsilanti townships. That accident also occurred about 6 p.m.
Ann Arbor police Sgt. Bill Clock said police have not yet determined why the woman was crossing the road in that area. There is no crosswalk or traffic light at the place where she was crossing.
Police are still interviewing witnesses, and Clock asked anyone with information about the accident to call him at 734-794-6921.
Sabine Gabaron, who lives in the area, said she has often seen pedestrians or bike riders trying to get across Ann Arbor-Saline Road near the intersection with Oakbrook. She is concerned about traffic and pedestrian safety in the area and said she has emailed the city seeking improvements.
AnnArbor.com photographer Melanie Maxwell contributed to this report.

View Pedestrian accident in a larger map