Posted on
Tue, Sep 25, 2012 : 2:59 p.m.
Vendor error causes duplicate water bills to go out to 1,000 Ann Arbor customers
By Ryan J. Stanton
If you live in Ann Arbor and received two city water bills in the mail recently, don't worry — you don't have to pay twice.
According to Jean Pearson, the city's customer service supervisor, the vendor that prints and mails the city's water bills, PrintMailPro, mistakenly printed 1,000 duplicate water bills.
City officials said there is no cost to the city because it's the vendor's error. In addition, PrintMailPro has committed to reviewing its processes to ensure the error doesn't happen again.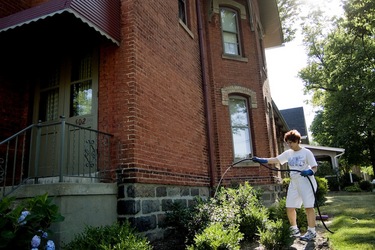 Jeffrey Smith | AnnArbor.com
Lisa Wondrash
, a spokeswoman for the city, said the city's customer service center has received about five phone calls a day since last week from water customers who received duplicate bills. She said customers have been understanding that it was an inadvertent error by the city's vendor.
Nearly $1.8 million worth of increases in water, sewer and stormwater rates that were approved by the Ann Arbor City Council took effect July 1.
The rate adjustments are expected to provide revenue increases of 3.25 percent in water, 4.25 percent in sewer and 4 percent in stormwater.
That's projected to increase revenues in water, sewer, and stormwater by $664,834, $916,577 and $184,064 respectively.
The impact of the increases on the average single-family customer is $19.40 per year, a net increase of 3.21 percent if consumption is unchanged from last year.
The city's drinking water rates for most residential customers are tiered based on usage. The city measures usage in units equal to 100 cubic feet of water or 748 gallons.
A typical single family bill is calculated with 21 units per quarter, is in the second tier for stormwater and receives a 10 percent discount for payment on or before the due date.
But even at the highest rate, the city's charges for drinking water are still significantly less than a penny a gallon.
Ryan J. Stanton covers government and politics for AnnArbor.com. Reach him at ryanstanton@annarbor.com or 734-623-2529. You also can follow him on Twitter or subscribe to AnnArbor.com's email newsletters.