Posted on
Sat, Nov 10, 2012 : 3:50 p.m.
Volunteer helps fellow veterans in Arbor Hospice care
By Lisa Carolin
The experiences of a veteran can often best be understood by another veteran. That's what keeps Vietnam veteran Don Ottomeyer in demand at Arbor Hospice.
Ottomeyer, 59, who has spent more than 25 years volunteering at hospices, has spent the past three years volunteering at Arbor Hospice.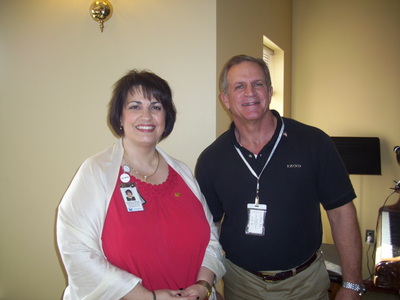 Courtesy Jaclyn Klein
"Statistically, one in four deaths are veterans," said Margaret Adrain, vice president of marketing for Arbor Hospice. "In the last year, Arbor Hospice has served more than 240 veterans."
Ottomeyer says there is a great need for more veterans to volunteer at hospices.
"Veterans shouldn't die alone," said Ottomeyer. "A veteran should have another veteran with them when they make that final journey."
Veterans from WWII, the Korean War, Vietnam and the Gulf War have all been served by Arbor Hospice. Currently, most of the veterans in Arbor Hospice's care are Vietnam Veterans, Adrain said.
"The military is a huge part of the life experience for most veterans," said Ottomeyer. "It's really about them getting things off their chest and sharing things they haven't shared. I just sit there and talk."
Ottomeyer says that survival guilt is something he hears about with more than half the veterans he talks to. They want to know why they lived and a close friend died.
"They reflect on life's opportunities like marriage and family and jobs, and feel regretful that their buddy didn't have the same experience," said Ottomeyer. "They sometimes feel ashamed that they lived."
How did Ottomeyer get involved in volunteering for hospices?
In 1978 while in the Army, Ottomeyer was sent on a rescue mission to Jonestown, Guyana. What he and his cohorts found were the remains of more than 900 people, including more than 200 children, who died in the mass suicide of members of the People's Temple led by Jim Jones.
"I was an Army ranger on what was a combat rescue mission but instead we had to retrieve all the remains," said Ottomeyer. "After being associated with so much death, I wanted to be with people during the dying process. It has been a marvelous experience for me."
Ottomeyer is spending Veterans Day — Sunday, Nov. 11 — visiting veterans and calling some of his friends from the Army to thank them for their service.
On Friday, Arbor Hospice hosted a special Veterans Day memorial service at its residence to honor employees, patients and volunteers who served in the military. Arbor Hospice participates in We Honor Veterans, an awareness and action campaign developed by the National Hospice and Palliative Care Organization that provides resources to hospices so they can offer veteran-specific care and also encourages veteran volunteerism.
For more information on the Arbor Hospice veterans programs, go to www.arborhospice.org or call Margaret Adrain at 734-794-5105. For information about veteran volunteer positions, call Sherry Wagenknecht at 734-794-5128.
Lisa Carolin is a freelance reporter for AnnArbor.com.