Posted on
Sat, Jul 13, 2013 : 3:11 p.m.
Vintage cars and trucks cruise Jackson Road Saturday
By Lisa Carolin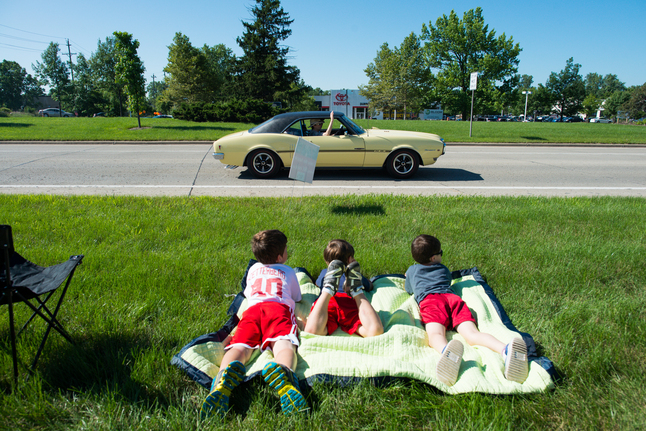 Courtney Sacco I AnnArbor.com
Anyone traveling on Jackson Road Saturday, between Wagner and Parker roads, may feel like they're thrown back in time. Vehicles that span the latter half of the 20th century and even some from the early part of the century are showing their stuff for the fifth annual Jackson Road Cruise in Scio Township.
The smell of exhaust and the sound of revving engines filled the parking lot at Bell-Mark Lanes Saturday morning. Many proud vintage car and truck owners proudly displayed their vehicles.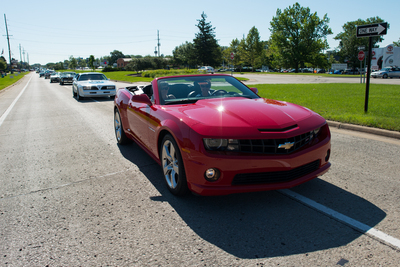 Courtney Sacco I AnnArbor.com
"It took me nine years to rebuild it," said Jim Brewer from Pinckney about his 1950 Ford Club Coupe. "It was old and rusty, and I put in new panels and floors and a lot of modifications. This was the first kind of car I ever learned to drive."
"I just had the notion I wanted to do a cab over truck," said Don Colliau of Dexter about his 1947 Dodge COE. "It's all custom. The only things that are original are the cab and the front fenders."
According to Todd Bailey, cruise chairperson, as many as 800 vehicles may be participating in the cruise, which is also a car show. Numerous businesses welcome participants in the cruise to stop by Saturday for a variety of activities. The total route is seven miles.
"Businesses on Jackson Road will reap the benefits of all the people we attract today," said Connie Kelly of the West Washtenaw Business Association.
Classic, custom, hybrid, electric, domestic and foreign vehicles were all invited to participate as well as motorcycles and trucks.
"We don't care what kind of car it is," said Bailey. "Any vehicle of interest is welcome. It's about bringing out what you're proud showing off and having fun."
Pat and El Wier from Ann Arbor were showing off their black 2001 Cobra Mustang with their matching black lab mix Buddy sitting in the back seat.
"The Cobra is a racing car, which sets it apart from the standard Mustang," said El Wier.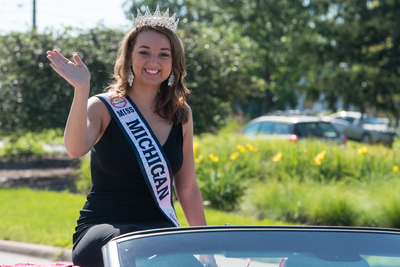 Courtney Sacco I AnnArbor.com
Mike Pulte's pride and joy is his 2005 Thunderbird.
"I just think it's beautiful," said the Ann Arbor resident about his car, which had the top down. "This event is a good way to meet people who enjoy cars, too."
Bailey said that the oldest car that's ever been part of the Jackson Road Cruise was a 1910 Detroit Edison car. Most of the participating vehicles are from the 1950s.
There was a parade this morning featuring the cruise's grand marshal, Stephanie Rushlow, 26, Miss Michigan, U.S., who is from Dexter.
"I am excited to be riding in a 2013 427 Corvette from the Suburban collection," she said. "It's the car's 60th anniversary."
Activities including bands and refreshments last until 6 p.m. For more information, go to http://www.jrcruise.org/events.html.
Interested in cars? See more auto-related coverage from Friday's Rolling Sculpture Car Show in downtown AnnArbor:
Lisa Carolin is a freelance reporter. Contact the AnnArbor.com news desk at news@annarbor.com.