Posted on
Fri, Aug 27, 2010 : 2:14 p.m.
Virg Bernero picks Southfield Mayor Brenda Lawrence as gubernatorial running mate
By Ryan J. Stanton
Democratic sources have leaked the news that Southfield Mayor Brenda Lawrence is Virg Bernero's choice for lieutenant governor.
Bernero, a former state lawmaker and current Lansing mayor, is expected to make the announcement official at a 9:30 a.m. news conference Saturday at Cobo Hall in Detroit, during the first day of the Michigan Democratic Party Nominating Convention.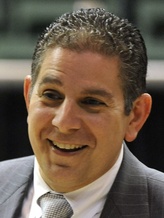 Bernero's campaign isn't confirming the choice, but other sources told both the Detroit News and Detroit Free Press that of the five or six candidates Bernero interviewed, Lawrence was the choice.
Lawrence, who grew up in Detroit, has been Southfield's mayor since 2001. She ran for Oakland County executive against incumbent L. Brooks Patterson and lost by a 58-41 margin.
She served on the Southfield School Board from 1992 through 1996, working her way up to school board president. She is the first black and first female mayor of Southfield.
The addition of a black female brings diversity to Bernero's campaign, along with additional political clout in Southeast Michigan. Bernero previously stated he was considering state Rep. Alma Wheeler Smith, D-Salem Township, another black female who would have brought extensive legislative experience.
Detroit City Council President Pro-Tem Gary Brown and Wayne State University Vice President Harvey Hollins also were among a long list of rumored hopefuls for the job.
Conan Smith, chairman of the Ann Arbor Democratic Party and head of the Ferndale-based Michigan Suburbs Alliance, said Lawrence will make a great lieutenant governor. She served on the board of the Suburbs Alliance up until last year and was one of its founding members.
"She's very dynamic, she's very dedicated — she's a strong black woman in Southeast Michigan," he said. "She's a role model for a lot of this community and, as a mayor, she has been one of those people who likes to be on the cutting edge of important things like regionalism and metropolitan policy."
Conan Smith said he was, of course, disappointed that Bernero did not select his mother, Alma Wheeler Smith. She interviewed for the job in Lansing on Monday.
Conan Smith, a Washtenaw County commissioner, said the only thing he worries about with Lawrence's selection is that she lacks legislative experience, and the lieutenant governor is in charge of presiding over the state Senate. With so much dysfunction in Lansing right now, he said, the state needs experienced hands at the helm.
"So I worry about that a little bit," Conan Smith said, otherwise describing Lawrence as hard-working and policy savvy.
Immediately following this weekend's convention, Bernero and his lieutenant governor nominee are going to take their "Fighting for Main Street Tour" on the road across the state, the campaign said today.
Bernero is expected to talk about his agenda to put middle-class families first and get Michigan working again. The campaign said he also will discuss his record as mayor of Lansing.
It's likely Lawrence also will talk about her record as mayor of Southfield, a city with a population of over 78,000 residents, a city budget of $143 million and 833 city employees.
The first leg of Bernero's tour next week includes stops in Flint, Bay City, Battle Creek, Grand Rapids, Royal Oak, Detroit and Lansing. Bernero will visit northern Michigan, the Upper Peninsula, and additional lower Michigan locations in the coming weeks, the campaign said.
"For too long, leaders at the state capitol have been unwilling or unable to create policies that actually make a difference in the lives of most Michiganders," Bernero said in a statement. "We need to fight for people and small businesses on Main Street and make their voices heard. That's what my Main Street Agenda is all about."
Bernero's opponent in the November election, Republican Rick Snyder, announced state Rep. Brian Calley, R-Portland, as his choice for lieutenant governor earlier this week. The two appeared together during a town hall meeting at Washtenaw Community College on Thursday.
Ryan J. Stanton covers government and politics for AnnArbor.com. Reach him at ryanstanton@annarbor.com or 734-623-2529.