Posted on
Wed, Sep 22, 2010 : 6:03 a.m.
Vote on medical marijuana ordinance delayed two weeks by Ann Arbor Planning Commission
By Ryan J. Stanton
The Ann Arbor Planning Commission postponed taking any action on a new medical marijuana ordinance Tuesday night at the advice of city staff.
A vote on the issue now is expected at the Planning Commission's next meeting on Oct. 5. The ordinance would then go before the Ann Arbor City Council for a first reading by Oct. 18, with final approval shortly thereafter.
"There are outstanding issues we're trying to clear up," said City Planner Jill Thacher, who has been working on a draft zoning ordinance regulating where medical marijuana dispensaries and home-based operations will be allowed in the city, along with limits on their uses.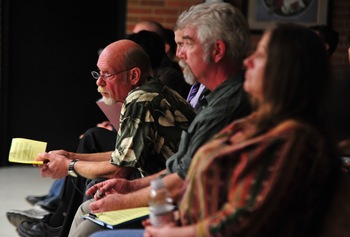 Ryan J. Stanton | AnnArbor.com
"We are learning things every hour about medical marijuana," Thacher said. "And we really need to hear public comments because that's one of the ways that we're gathering a lot of information about how dispensaries work, how caregivers operate, what patients desire."
The Planning Commission heard feedback from about 15 people during a public hearing at Tuesday's meeting. The general consensus was that the ordinance, as currently drafted, goes too far and includes too many restrictions.
Speakers took exception to the part of the ordinance that states no dispensaries could be allowed within 500 feet of one another, within 1,000 feet of a school, or within 200 feet of a residential district. Some also objected to the part that stipulates all activity in a medical marijuana dispensary, including growing and dispensing, must be done indoors.
"First of all, I don't see any reason why there needs to be a 200-foot spacing from a residential area. Each site plan presumably will be individually considered on its own merits," said Matthew Abel, a Detroit-based attorney specializing in marijuana law. "Secondly, I don't see any reason why facilities can't be closer to each other than 500 feet."
Due to a heavy agenda Tuesday night, the public hearing didn't come until more than four hours into the meeting, which went past 12:30 a.m. this morning.
"It's been a long wait. I haven't had any of my medicine since before dinner, and I am in extraordinary pain right now," said Chuck Ream, a longtime medical marijuana advocate who last month opened a dispensary on Packard Road.
Ream reminded city officials that Ann Arbor voters overwhelmingly supported medical marijuana on two separate occasions in 2004 and 2008.
"Our people here are smart enough to realize that medical marijuana prohibition is much more dangerous to people's lives than marijuana," he said.
Those who advocated on behalf of the medical marijuana community Tuesday night urged city officials to set aside stereotypes about pot smokers and see medical marijuana as they see it — as a natural medicine administered by compassionate caregivers to registered patients.
Speakers asked planning officials to treat medical marijuana dispensaries the same way they treat pharmacies that provide prescription drugs to sick people.
"There's no reason to be 200 feet from a residential area," Ream said. "We don't have cooties. We are helping people. This is discriminatory — highly exclusionary."
Planning Commissioner Erica Briggs said she agreed the ordinance as currently drafted may be too limiting.
"I think some legitimate concerns were brought up," she said.
Commissioner Evan Pratt disagreed that the ordinance is exclusionary.
"I would remind people that, in our zoning code, pharmacies are restricted," he said. "There's not that many places that pharmacies can go, yet we seem to see a lot of them. So I didn't have a concern that the ability to provide services would be in any way compromised."
Planning Commissioner Tony Derezinski, who also serves on the Ann Arbor City Council, said he recently toured a new medical marijuana dispensary above Vinology on Main Street. It's one of eight or nine dispensaries city officials believe are operating in the city now.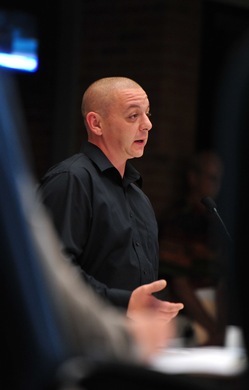 Ryan J. Stanton | AnnArbor.com
"They showed us the public areas. They also showed us where the substance was kept was in another room, and where it was dispensed was in another room as well that was very private," he said. "It looked like a very well-run institution, very clean, and very professional. I think that's the impression that they wanted to give, and they did a good job of giving it."
The City Council approved a four-month moratorium on new medical marijuana dispensaries last month in an effort to give city staff time to come up with zoning regulations. Some residents had complained to the city about medical marijuana operations near where they live. The moratorium expires Dec. 3, and city officials are moving quickly to get an ordinance in place.
Sam Mendez, who spoke before the Planning Commission Tuesday night and identified himself as both a patient and a caregiver, said he's in the process of starting up a company called Green Home Medics that will connect people with free medical marijuana.
"We are a home health care nursing company staffed with registered nurses, nurse technicians, nurse aids, botanists and master cultivators who have all agreed to donate their time, money and energy to the patients of the Michigan Medical Marihuana Program," Mendez said in an interview after Tuesday's meeting. "We never charge patients a dime for the medicine that we produce for them, and we bring it to their door."
Mendez said the location of the operation is secret, but it's based in Washtenaw County and started Sept. 3. He said the facility has the capacity to accommodate 15 to 20 patients.
"We currently only have one patient," he said, "so we're looking for patients now."
Click here to read the latest draft of the medical marijuana ordinance.
Click here to read the latest city staff report on the medical marijuana ordinance.
Ryan J. Stanton covers government and politics for AnnArbor.com. Reach him at ryanstanton@annarbor.com or 734-623-2529.