Posted on
Thu, May 23, 2013 : 5:59 a.m.
Construction on University of Michigan's Wall Street parking structure begins in June
By Kellie Woodhouse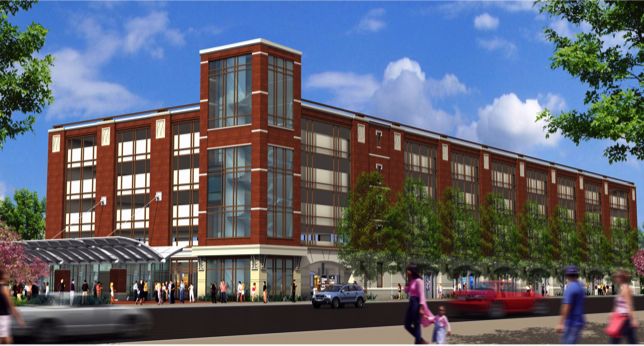 Photo courtesy of University of Michigan
After five years of planning and receiving complaints from Lower Town residents, the University of Michigan will break ground on a 725-space parking structure on Wall Street next month.
Crews are expected to finish the garage by spring 2014. The garage will be located between Maiden Lane and Wall Street in Ann Arbor, near the Kellogg Eye Center.
On Wednesday U-M officials met with roughly a dozen nearby residents to discuss the structure and the school's construction plans. The residents in attendance have spent years protesting the garage, criticizing it at a handful of meetings and even submitting a formal petition five years ago.
The structure was initiated in 2008, then dropped in favor of the Fuller Road Project, a proposed parking structure and transit area that would have been funded jointly by the City of Ann Arbor and U-M. Yet when that project didn't gain traction as quickly as U-M wanted, it abandoned the partnership and in April 2012 revisited plans for a garage along Wall Street.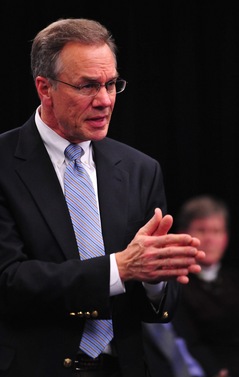 Ryan J. Stanton | AnnArbor.com
Residents worry the garage will bog down the flow of traffic in the area and create noise and pollution. For residents who live in the Riverside Park Place Condominium Complex on Wall Street, the new six-story garage will essentially be in their front yard— an eyesore, many say.
But university planners contend that building the garage is necessary to ease a growing and pressing parking shortage on campus. Many of the school's 14,700 commuters with 'blue' parking passes complain of having to arrive early to work and hunt for a parking spot. Some jokingly refer to their parking permit as a 'hunting license.'
U-M officials say that the university, by seeking resident feedback and tweaking certain aspects of the construction process to produce less dust and noise, has tried to be considerate of neighbors who are outspoken against the garage.
"Hopefully we've been able to demonstrate a really responsive and sensitive design, and now a construction plan that's equally sensitive with a lot of mitigation of noise, mitigation of vibration and added efforts to minimize disruption in the neighborhood," said Sue Gott, U-M's lead planner.
Yet residents remain resentful of the garage and many are concerned that, despite promises otherwise, the construction process will be disruptive to their daily lives.
"One thing I want to reiterate and reemphasize is that putting a garage here is really a bad idea. It's the worst of both worlds... With a parking structure here, you're basically requiring single occupancy vehicles to come almost all the way to their destination and then, on top of that, most of them will still have to take bus transportation [to their workplace]," said Tim Mortimer, a former president of the Riverside Park Place Condo Association. "This should have been placed on the periphery of the university."
He added:
"The university has done a few good things [in working with the community on the garage], but it's mostly lipstick on a pig.... Around the edges they've done a good job and they've tried to be responsive, but not in terms of their major decisions."
During the Wednesday meeting, residents expressed concern that construction crews would begin earlier than their official 7 a.m. start time and worry that construction vehicles would idle along Wall Street. Similar infractions, residents said, have occurred in previous construction projects.
Riverside resident Eliana Moya Raggio said that during a previous U-M construction project along Wall Street she was awakened at 5 a.m. by construction crews.
"We are finding that there is a tremendous difference between what is said here and what really happens," she said, adding that she is concerned about traffic congestion along Maiden Lane and Wall Street both during the construction process and after the structure is operational. "The traffic is and will be a problem. You might say that the parking structure will only have a small impact...but this is going to be quite difficult."
A traffic study commissioned by U-M found the garage would likely increase area traffic by 1,500 trips per day, amounting to an overall traffic increase of less than five percent.
Jim Kosteva, U-M's community relations director, said U-M will be considerate of neighbors during construction. If construction workers break rules, there will be consequences.
"We're prepared to fire people," he said. "We're expecting that there will be people fired and released in the early goings of construction activity until they get the message," he said. "When it says 7 a.m. is the start time, 7 a.m. is the start time."
In the school's master plan are drafts for another parking garage to go alongside the soon-to-be-built $34 million parking garage on Wall Street, which regents approved in April 2012; however, Gott says the school has no imminent plans to build a second garage on Wall Street.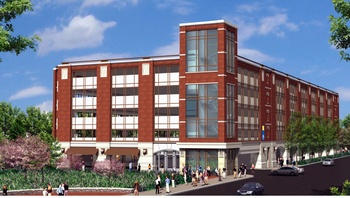 University of Michigan rendering
Construction timetable:
June: Construction crews arrive and prepare the site for construction throughout the summer. Utility and engineering work will take place during this time. The drilling that takes place during this phase makes it the noisiest time of construction.
Fall: The foundation will be laid and pre-cast material erected.
Winter and Early Spring 2014: Construction will continue as the garage is finished.
Spring 2014: The garage will open and U-M will begin landscaping the area.
Construction logistics:
Construction will take place Monday through Friday from 7 a.m. until 5 p.m., with building also occurring during some Saturdays and one Sunday.
As the construction site sits low geographically, crews will monitor ground water and remove excess water.
Crews will spray water around the construction site to control dust. There will be a full-time street sweeper on the construction crew.
There will be up to 50 construction workers working the site during peak building months in the winter and early spring of 2014.
Construction trucks and vehicles will arrive on the site from Maiden Lane and exit via Wall Street.
U-M is trying to avoid loud noises by using certain construction techniques, such as drilling land and not pounding it and using an electric water pump instead of one fueled by diesel.
Closings:
The eastbound lane of Maiden Lane, from Nielson Lane to Maiden Lane Court, will be closed and the current center lane, which is now used for turning, will be used as an eastbound lane.
During one yet-undetermined weekend during the fall Wall Street will be closed as the university dismantles a crane. Riverside Park Place Condominium residents will maintain access to their building.
Street parking along sections of the north side of Wall Street that abut the project area will be eliminated during the construction.
Island Drive, from Maiden Lane to Wall Street, will be a two-way road during construction. It's normally one way.
Sidewalks along the north side of Wall Street and the west side of Maiden Lane Court will be closed during construction.
The 200-plus cars that park in the surface lot where the garage is being erected have been redirected to other lots for 'blue' permit holders.
Parking structure details:
U-M regents have approved the project budget at $34 million.
'Blue' U-M permit holders should be able to park in the structure.
With roughly 725 spaces, the structure adds 530 net vehicle spaces to U-M's parking portfolio, which currently includes more than 23,000 spaces in Ann Arbor.
Vehicle spaces will be 16.5 feet by 8.5 feet, smaller than most parking structure vehicle slots.
At six floors, the structure will be elevated roughly 70 feet above ground-level.
Exterior wall openings will be high enough to avoid headlights shining through the structure and bothering residents.
New lighting will be installed around the structure. All lighting in the structure will be motion activated.
A rain garden will be planted on the east side of the structure to collect surface stormwater runoff.
The university is creating a public walkway along the north end of the parking structure, where the side of the structure abuts Maiden Lane. This sidewalk will go through the garage.
There will be two ways to exit and enter the structure, one off of Maiden Lane and another off of Wall Street.
The university is extending Neilson Court, which currently ends at Maiden Lane, to Wall Street.
U-M display
Kellie Woodhouse covers higher education for AnnArbor.com. Reach her at kelliewoodhouse@annarbor.com or 734-623-4602 and follow her on twitter.