Posted on
Thu, Jul 18, 2013 : 9:56 a.m.
Warning issued for Ann Arbor as heat index heads toward 105 degrees
By Amy Biolchini
A heat advisory in effect since noon Tuesday has now been upgraded to an excessive heat warning for the Ann Arbor area.
The National Weather Service out of Detroit issued the warning Thursday morning and it is in effect until 8 p.m. Friday.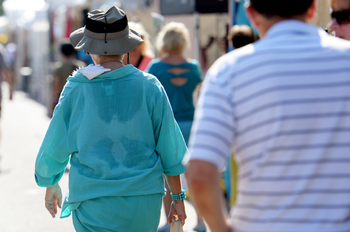 Melanie Maxwell | AnnArbor.com
Temperatures are expected to reach into the mid-90s Thursday and Friday. High humidity will push the heat index — a measure of how hot it feels — to about 105 degrees. The heat warning includes much of southeast Michigan and the Thumb.
Health officials are warning people spending time outdoors this week to stay hydrated and to take breaks in the shade or air conditioning to avoid heat-related illnesses.
Washtenaw County Public Health has announced a list of buildings that are welcoming the public to cool down in their air-conditioned spaces this week.
Thursday morning, Washtenaw County officials were reviewing weather conditions to gauge weather they warranted the implementation of the Heatwave Community Response Plan, said Cindra James, the health department's emergency preparedness administrator.
The plan would mean that certain public buildings -- like schools -- would be opened as cooling centers where the public could rest in air conditioning and find food and water. Emergency transportation to cooling centers would also be available.
The emergency response plan is only activated after two to three days of a continued heat advisory, or one day of an excessive heat warning, in addition to power outages.
James said the county is considering the hot weather this week to be a "minor heat wave."
Friday night the heat wave is expected to break near midnight, when thunderstorms are expected to hit southeast Michigan. Saturday will be much cooler with a high near 78.
For up-to-date weather information, visit AnnArbor.com's weather page.
Amy Biolchini covers Washtenaw County, health and environmental issues for AnnArbor.com. Reach her at (734) 623-2552, amybiolchini@annarbor.com or on Twitter.