Posted on
Fri, Mar 18, 2011 : 5:59 a.m.
Warrants issued for Webster Township couple who had 48 animals removed from their home
By Heather Lockwood
A Webster Township man and woman, who had 48 animals removed from their home last June now face charges including abandonment and cruelty to 10 or more animals.
Matt Schaecher, supervisor of cruelty and rescue at the Humane Society of Huron Valley, said 48 animals — nine birds, two cats and 37 dogs — were removed from the couple's home June 17. At the time, the Humane Society described said the animals were living in "horrendous conditions."
"The pens the dogs were living in were covered in feces," there were "flies everywhere" and there was "no clean water for the dogs to drink," Schaecher said. The animals also lacked proper veterinary care, he said.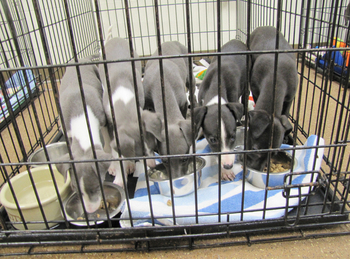 Donald Douglas Burkett
, 61, and
Kathe Elizabeth Tyson-Burkett
, 61, are each charged with one count of abandonment, cruelty to 10 or more animals and one count of possession of the controlled substance euthasol, court records show. Schaecher said euthasol is used to euthanize animals.
If convicted the couple could each face up to six years in prison for the two felony charges.
Warrants were issued for both of them March 1, court records show. Neither of them have been arrested or arraigned, Schaecher said Wednesday.
Humane Society of Huron Valley executive director Tanya Hilgendorf told AnnArbor.com in June that the animals were living among filth and feces in the home with two adults. She said the owners, who were present when investigators arrived, voluntarily signed over their rights to the animals.
Schaecher said the Humane Society suspects the couple was breeding and selling dogs.
Most of the dogs taken from the home were whippets, Schaecher said. There was also one skye terrier and two Italian greyhounds. An anonymous tip led to the removal of the animals from the home, he said.
Kathe and Donald Burkett's address in court records is the same as the address of Stillwater Hill Kennels listed in WhitePages.com, where Donald Burkett is listed as the owner. AnnArbor.com left a voicemail at the number Wednesday afternoon, but the phone call was not returned.
Heather Lockwood is a reporter for AnnArbor.com. Reach her at heatherlockwood@annarbor.com or follow her on Twitter.