Posted on
Mon, Jul 1, 2013 : 5:58 a.m.
Commissioners want more information as county considers bond issue to cover retiree benefits
By Amy Biolchini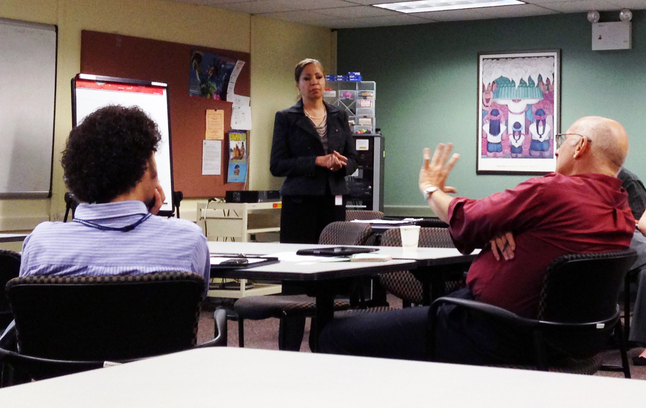 Amy Biolchini | AnnArbor.com
Washtenaw County
commissioners are pushing Administrator
Verna McDaniel
and her staff to be more open to the public as they consider issuing up to
$350 million in bonds
to cover the county's long-term retiree benefit costs.
McDaniel has responded in kind this month with several briefing sessions and the launch of a new website on the bond issue.
After the bond issue was introduced to the public May 2, a lack of complete information and desire for more public involvement caused the Board of Commissioners to pull the issue from its May 15 agenda.
Information has been trickling out since then, and most commissioners now have a better grasp of what's at stake.
However, with little control over the county's decision to issue millions of dollars in debt, public resistance has quietly been bubbling up.
Less debt than anticipated
Early reports indicate the amount Washtenaw County will need in order to cover its long-term retiree benefit debts will be substantially less than the $350 million initial estimate, McDaniel said this week.
McDaniel introduced the bond proposal to the Board of Commissioners this spring as a way for the county to pay off millions of dollars in debt incurred by two under-performing trust funds for retiree pension and health care benefits.
Though the county has been paying its required contribution to both trust funds each year, debt has continued to increase as the return on investment has been less than anticipated.
McDaniel claimed Tuesday that the bond issue would be tens of millions of dollars less than the $350 million figure, based on a report the county received from its actuary this week.
However, she would not elaborate as to what the more accurate figure is.
That announcement will likely come at the July 10 Board of Commissioners meeting — two days after county staff receives a highly anticipated actuarial report. A review by an independent consultant is also due at that time.
Here's how the bond proposal would work:
The county would borrow a sum of money that it estimates, based on the most recent actuarial report, will fully fund its debts for current and future retiree pension and health care costs. That amount is estimated to be less than $350 million.
The borrowed money would be invested by someone the county hires and according to a policy that the Board of Commissioners develops.
An intermediary trust fund would be established to collect the return on investment from the bond, to be overseen by a board the Board of Commissioners would appoint. The bond proceeds will pay the county's annual required contributions to its pension and health care funds.
The county would be responsible for paying off the money it borrowed, plus interest. Funds for that will come from the county's fringe benefit fund, which draws a set amount from the general fund and required employee contributions. The county could determine its own payment schedule.
The success of issuing bonds for the long-term debts would rely on the return on investment being greater than or at least the same as the rate at which the bond was purchased.
Should the bond proceeds not be large enough to cover the county's annual required contribution, the county would have to allocate more money away from its operations to pay for that additional debt.
A public vote?
At the July 10 meeting, the commissioners will be faced with the same resolution at its back-to-back Ways and Means and regular meetings that would start the ball rolling on the bond issue process.
Should the resolution — a notice of intent to issue the bonds — be approved by the commissioners at both meetings, a 45-day referendum period will begin July 11.
During that period, the public has the opportunity to collect 15,000 signatures on a petition in order to place the bond issue on a ballot for voter approval.
Ann Arbor resident Doug Smith has begun organizing a group to begin collecting signatures as soon as the referendum period begins July 11.
He's started a website — "Washtenaw Watchdogs" — and has eight volunteers who have pledged to help him collect signatures and canvass county residents door-to-door.
"The basic intent is that something this big ought to be up to the vote of the people," Smith said. "I think the county and the county administrator are giving a rosy picture that I don't think is anywhere near the truth."
Smith said he's confident that he'll be able to raise 15,000 signatures in 45 days — but that he doubts he'll be able to meet the Aug. 13 deadline to file language for the November ballot. The ballot issue would then appear before voters in February.
By February, the county will have had to approve its budget for 2014 — and McDaniel is counting on the bond issue to prevent significant operational cuts this budget cycle.
The bond issue does not require a vote of the people in order to move forward. The commissioners could place the item on the ballot ceremonially, but McDaniel is against the measure.
"Time is against us," McDaniel said.
She said Thursday during a public briefing it would be too time-consuming for her staff to wait for a ballot initiative as they attempt to create a four-year budget for the first time this year.
The other option
In pursuit of long-term fiscal stability for Washtenaw County, McDaniel has also presented the commissioners with the task of switching from a two-year to a four-year budget cycle.
In the past five years, the county's services have undergone significant operational budget cuts.
In a financial analysis presented to commissioners this spring, McDaniel stated that nearly $7 million in additional operational cuts are needed to ensure stability in the next four years.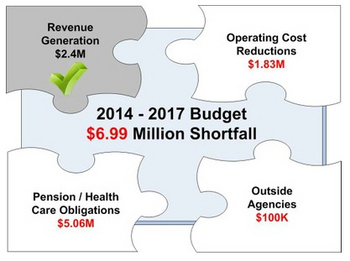 Courtesy of Washtenaw County
"We would be cutting in the bone of this community," McDaniel said.
The majority of that figure must be made in the first year of the four-year budget, said Kelly Belknap, the county's finance director.
About $2.4 million of the $6.99 million has been accounted for through higher-than-expected revenues. McDaniel is banking on finding the vast majority of the $6.99 million through reductions in the county's payments to its retiree health care and pension funds.
In 2012, Washtenaw County paid out a combined $20.6 million to cover its annual required contribution to the pension and health care funds — a figure that accounts for 10 percent of the county's general fund expenditures of $97.8 million and 20 percent of all expenditures, McDaniel said.
That payment is expected to rise to $22.3 million in 2013, and to be even higher in 2014 because the county has closed the pension and health care plan to employees and so it must pay off its debt on a more aggressive schedule, Belknap said.
Without issuing a bond for the estimated $340 million debt in the two funds, administrators claim they would have to divert more general fund revenue away from critical operations to pay off debt.
McDaniel, at the request of several commissioners, published the alternative scenario to bonding for the debt this week on a new website dedicated to the issue.
A number of discretionary services could be affected:
A countywide road patrol staffed by 12 Washtenaw County Sheriff's Office employees
Senior nutrition programs expected to provide more than 156,000 meals this year, including to homebound individuals
Washtenaw County Sheriff's Office Community Corrections — including jail and prison diversion programs
Probation services to supervise sentenced offenders in the community
A Michigan State University Extension office
The Maternal Infant Health Program to support pregnant women and infants on Medicaid
Job training and placement for unemployed residents
Affordable housing development
Health care for 8,000 low-income, uninsured residents through the Washtenaw Health Plan
About 70 percent of the services the county funds are mandatory, while the remaining 30 percent of the services are funded by the state and federal government. The county contributes a small amount to funding those services in order to gain state and federal funding.
The county employs 1,350 people, 650 of whom are paid for by general fund dollars.
"I don't think that just showing what would be cut is a compelling enough argument for bonding, but I think it gives context as to why bonding would be the least bad of the options," said Commissioner Andy LaBarre, D-Ann Arbor.
LaBarre said that should the county choose to issue a bond for its debt, it doesn't mean that "happy days are here again."
"If we did the bonding, we're going to have to remain in 'lockdown mode' for quite a while," he said.
Board Chairman Yousef Rabhi, D-Ann Arbor, said being fiscally conservative in the future is a better alternative than having to make deep cuts in county services.
McDaniel said she believes all of the commissioners have taken the time to understand the intricacies of the bond issue — though "some are more passionate about it than others."
"I think what they clearly understand is that the cuts will be extremely painful," McDaniel said. "They're going to look at that probably much more seriously — that if we have a strategy for making those cuts that we're going to give that serious consideration."
Releasing more information
The discretionary county services that would be on the line for cutting should the county not issue bonds were not made public until this week.
"I wish more data was made available earlier, frankly," LaBarre said. I wish more concrete information was available earlier, but I'm aware that some of this was not available."
The issue of bonding for long-term debts was first brought up during union contract negotiations in February, which were hastened in advance of the right-to-work implementation deadline. The measure was presented to the public for the first time May 2 and commissioners were supposed to vote on the issue May 15.
The board instead postponed the matter to allow more time for public engagement and education and to wait for a new actuarial report for a more accurate estimate of accrued debt.
Commissioners have urged the county administration to disseminate more information to the public since May.
"I specifically talked to Verna and said you need to have a press conference and a public presentation," Rabhi said.
Rabhi acknowledged that some of the information could have been distributed sooner, but he said county administration has a demanding workload and are dealing with other issues.
"They got it out there at the time they could get it out there," Rabhi said. "That's what we've asked them to do. They've accomplished everything we've asked them to do … Overall, they did a good job."
McDaniel said she directed her staff to develop a new webpage with the bond proposal information after she was asked by several commissioners.
She explained her reluctance to publish a list of discretionary services that could be cut, should the county decide against issuing bonds.
"When you do operational cuts in the organization for programs and services, it's a process that takes a long time," McDaniel said. "It takes coordinating and having conversations with key people in the organization … I don't want to blindside anyone."
Amy Biolchini covers Washtenaw County, health and environmental issues for AnnArbor.com. Reach her at (734) 623-2552, amybiolchini@annarbor.com or on Twitter.