Posted on
Fri, Jun 3, 2011 : 5:59 a.m.
Washtenaw County Board of Commissioners will be 'catalyst' for expanding transit services countywide
By Ryan J. Stanton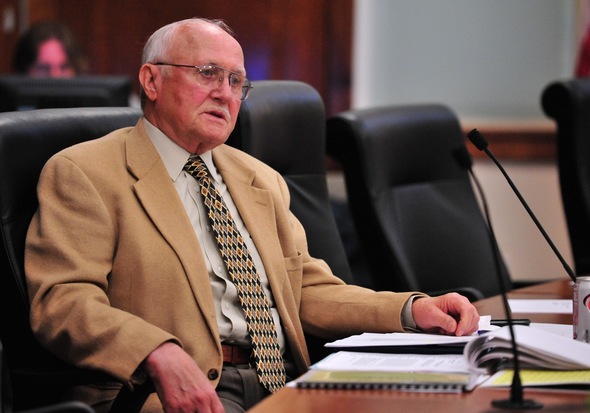 Ryan J. Stanton | AnnArbor.com
The Washtenaw County Board of Commissioners will play a crucial role later this year in expanding public transit services throughout the county, according to Michael Ford, president and CEO of the Ann Arbor Transportation Authority.
"You are the catalyst to helping make this happen, in terms of the administrative role that you can play," Ford told commissioners during a special working session Thursday night.
Ford said the county board will be asked later this fall to approve a resolution to form a new regional transit body known as an Act 196 authority — a multi-jurisdictional agency replacing the AATA, an Act 55 authority chartered in 1969 by the city of Ann Arbor.
Commissioners also will be asked to approve filing of articles of incorporation for the Act 196 authority, which AATA officials expect to happen in the spring of 2012.
"Filing the articles of incorporation costs the county nothing, nothing at all," Ford told commissioners, adding that having the county file the paperwork is simply the most expedient way of creating the new authority.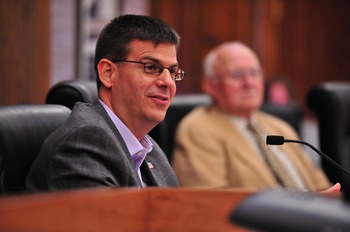 Ryan J. Stanton | AnnArbor.com
After the articles of incorporation are filed, the various municipalities throughout the county that are being asked to join in as partners will have 30 days to decide to stay in or opt out of both the millage that would fund the Act 196 authority and the services it would provide.
Ford said AATA officials have been working diligently to seek buy-in from 28 different municipalities throughout the county, and some already have passed interlocal agreements that will help determine their representation on what's being referred to for now as an unincorporated Act 196 board.
The board would be responsible for developing and approving bylaws and a services plan for the new authority — as well as agreeing on a funding plan — before the county board is asked to take any action.
The AATA's proposed plan includes carrying over seven existing AATA board members to represent Ann Arbor, with eight other spots representing outlying areas of the county.
Ann Arbor Township and Superior Township already have passed interlocal agreements, Ford said, and others are being considered in the next two months.
AATA's governing board recently took steps to move ahead with a 30-year transit master plan that calls for investing $465 million to expand transit services countywide. Now the agency is working on implementing the plan, which likely will require going to voters next year with a countywide millage request to fund the new multi-jurisdictional transit authority.
Some commissioners have raised concerns, though.
Commissioner Wesley Prater, D-York Township, asked several questions Thursday night that indicate he's still not convinced the AATA is headed in the right direction.
"My concern is that when this is done, it's done properly, and I'm not convinced at this point in time what you folks are looking at is the right way to go," Prater said, directing his comments at Ford and Jesse Bernstein, the current chairman of AATA's governing board.
Prater said he doesn't think it's fair for Ann Arbor to have seven seats on the 15-member Act 196 board when the city only accounts for about a third of the county's population.
Prater also said he was concerned that by approving the articles of incorporation, the county board essentially would be putting every unit of government in the county under the Act 196 authority with only a 30-day window for opting out. After that, governmental units wouldn't have another chance to reconsider until the authority's millage comes up for renewal.
"That's exactly what you're doing," Prater told AATA officials. "They have to opt out within 30 days or they may be locked in for five years, if I heard you correctly, and I don't know if I want to do that. I don't want to subject my constituents to those kind of issues."
Bernstein said the new authority's governance model will be determined over the next few months by the unincorporated Act 196 board, and there's still room for modifications.
Commissioner Yousef Rabhi, D-Ann Arbor, said he thinks it makes sense that Ann Arbor should have seven seats on the board.
"Out of a 15-member board, if Ann Arbor has roughly a third of the population of the county, population-wise we're entitled to five members on that board," he said. And because Ann Arbor already has a 2-mill tax that funds AATA, which likely wouldn't go away, Rabhi said it seems reasonable that it would get two additional seats for that investment.
Both Rabhi and Commissioner Leah Gunn, D-Ann Arbor, said it's important that those 2 mills stay on the tax rolls and not be eliminated. Gunn said the tax originally was approved as a permanent millage in 1976.
"I want to clarify, each jurisdiction will vote whether or not it wants to be taxed to provide the service, so it's up to each jurisdiction," Gunn noted.
Bernstein acknowledged the AATA doesn't have a funding plan yet. Most assume it'll be a millage of some kind, he said, but there's still a long way to go before that's proposed.
Ford described the current state of transit services in Washtenaw County as "really patchy" and said the 30-year plan is geared toward a "more robust and seamless" system.
"This is a framework — it's not something that can happen overnight, but it's a 30-year vision of what the future could look like," he said. "There's opportunity to expand the frequency of service throughout the county, really connect everybody going forward."
Ford noted the Act 196 model is used throughout Michigan, including in Grand Rapids, Kalamazoo, Traverse City, Metro Detroit, Jackson and Bay City.
He clarified that the county would not be responsible for putting the millage request on the ballot — that'd be up to the transit authority.
Ryan J. Stanton covers government and politics for AnnArbor.com. Reach him at ryanstanton@annarbor.com or 734-623-2529. You also can follow him on Twitter or subscribe to AnnArbor.com's e-mail newsletters.