Posted on
Thu, Oct 21, 2010 : 3:51 p.m.
Washtenaw County board shoots down Kristin Judge's proposal to cut commissioner perks
By Ryan J. Stanton
A proposal by Washtenaw County Commissioner Kristin Judge to eliminate commissioner pensions and health benefits was quickly defeated Wednesday night.
Judge made a motion during the county board's Ways and Means Committee meeting, asking fellow commissioners to join her in making cuts to commissioner perks — reductions she said would save the county tens of thousands of dollars.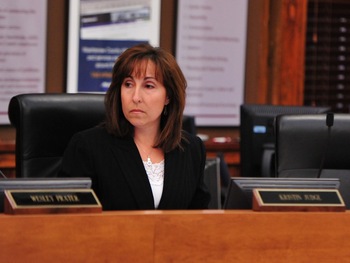 Ryan J. Stanton | AnnArbor.com
"The residents in my area feel pretty strongly that part-time elected officials shouldn't receive benefits when quite a few people are losing their benefits," said Judge, D-Pittsfield Township, in making the motion to vote on her proposal.
"The resolution has been moved. Is there a second?" said Committee Chairman Conan Smith, D-Ann Arbor.
After a long pause, Smith said, "Hearing no second, the motion dies."
Judge, who is up for reelection against Republican Sean Gray on Nov. 2, expressed disappointment afterward that her proposal lacked support. Other commissioners, however, said they believe politics were at play.
"I don't think it's morally right to mess with somebody's health care, and there's only one commissioner who has it — she's singling out Barbara," said Leah Gunn, D-Ann Arbor, referring to an ongoing feud between Judge and Commissioner Barbara Levin Bergman, D-Ann Arbor.
Judge and Bergman have been at odds in recent months, with Judge accusing Bergman of engaging in "abusive" workplace behavior. In an e-mail to Bergman on Aug. 27, Judge stated, "Unfortunately, you continue to act in a manner that is hurtful, unprofessional and interferes with my ability to be as effective as I would like in my job. As with any employee of Washtenaw County, I am entitled to a harassment-free workplace."
Judge stated in the e-mail she had met with the county's human resources director to file a formal complaint against Bergman and planned to start an investigation into her conduct.
"I intend to FOIA all your outgoing e-mails since Jan. 1, 2009, and compile the information needed to show a pattern of 'conduct unbecoming an elected official,'" Judge wrote. "I will also search the tapes of board meetings to compile other evidence. Staff will be interviewed, and it will be an uncomfortable situation for both of us. After having my personal attorney look at a sample of the e-mails, I am confident that harassment has occurred."
Judge claims Bergman habitually sent out e-mails to other commissioners and county staff members after board meetings, attacking her for things she said or did during the meetings. Judge claims Bergman repeatedly directed county staff to try to discredit her work.
"I have been harassed online and in person for about a year and a half now," Judge said. "I don't think anyone should be harassed in the workplace. Even elected officials have rights."
When asked about the matter, Bergman said she preferred not to comment.
"This is her deal. I think you should talk to her about it," she said.
Judge said she has decided to hold off on pursuing a disciplinary process against Bergman for now because it would take staff time for interviews, and the county would need to pay for a lawyer. She said she doesn't want to spend taxpayer dollars on fighting a "bully."
Judge denied any political motive was behind her proposal on Wednesday, saying she's only responding to concerns raised by residents who believe part-time commissioners shouldn't get lifetime benefits.
Judge's proposal would have eliminated pension and health benefits for all returning and newly elected commissioners effective Jan. 1 and beyond. The only current commissioner whose health benefits would be affected would be Bergman.
Ryan J. Stanton | AnnArbor.com
The only commissioners taking health insurance from the county are Bergman and Jeff Irwin, D-Ann Arbor, who is leaving the board at the end of this year. Judge noted Bergman would qualify for lifetime health benefits at the end of this year, and so would Gunn in two more years. Gunn said she's not interested in collecting those benefits, though.
Commissioners currently participate in the county's money purchase pension plan, contributing 7.5 percent of their pre-tax wages and receiving a matching 7.5 percent county contribution.
In 2008, the county's human resources department transferred nearly all active employees from the money purchase pension plan to the Washtenaw County Employees Retirement System. Judge said commissioners are the only 11 employees left in the plan, and the county continues to pay a fee of $10,000 annually for administration of the accounts.
Commissioners are eligible for retirement benefits at age 60 if they've clocked eight years of service credit (which is 16 years in office since they're considered part-time) — or if their age plus years of service credit total 75 or more.
Judge estimated a savings of $13,200 annually by eliminating the 7.5 percent county pension contribution, and an additional savings of about $12,500 annually by eliminating health care benefits for commissioners based on current costs. She said the county now pays about $6,000 apiece for health insurance for Irwin and Bergman.
Irwin said he didn't support Judge's proposal because he prefers an alternate plan from Gunn, who proposes getting rid of per diems, mileage and travel expenses for commissioners. Gunn's proposal, in some form, is expected to come before the board in December, along with a proposal to get rid of the county's retiree match for commissioners. That proposal, at least for now, leaves health and dental benefits for commissioners in place.
Ryan J. Stanton covers government and politics for AnnArbor.com. Reach him at ryanstanton@annarbor.com or 734-623-2529.