Posted on
Thu, Oct 21, 2010 : 6:05 a.m.
Emotions flare at Washtenaw County board meeting in response to attacks on Mark Ouimet
By Ryan J. Stanton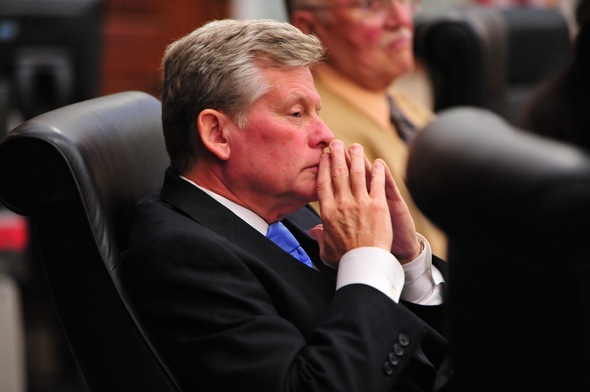 Ryan J. Stanton | AnnArbor.com
It was high drama at Wednesday night's meeting of the Washtenaw County Board of Commissioners as members of the Washtenaw County Republican Committee rose in defense of Republican Commissioner Mark Ouimet.
"This is politics at its worst," said GOP Chairman Mark Boonstra, scolding the Democrat-controlled board. "These unfounded attacks have slandered the good name of a good man who has served this county well. So I call upon all of you county commissioners to put aside partisan politics, as Mark so often has, and to denounce these Democratic attacks."
Ouimet's expense record has been in question for the past two weeks, with the Washtenaw County Democratic Party calling for an investigation into $35,000 in per diem payments and mileage reimbursements Ouimet has collected for attending meetings as a commissioner.
County Clerk Larry Kestenbaum released findings on Wednesday of an analysis conducted by his office, showing more than $10,000 of the per diem and mileage payments Ouimet received from 2005 to 2009 don't appear to be eligible under county board rules.
But Ouimet isn't the only commissioner whose expenses are in question now. The clerk's report shed light on the fact that seven other commissioners on the 11-member board have billed the county for attendance at meetings that don't appear to be eligible for payment.
That includes $4,226 by Jessica Ping, $980 by Barbara Levin Bergman, $446 by Ken Schwartz, $349 by Wesley Prater, $109 by Conan Smith, $30.82 by Rolland Sizemore, and $30.50 by Kristin Judge. Three came out mostly clean: Ronnie Peterson, Jeff Irwin and Leah Gunn, though Gunn and Irwin had some expenses flagged "uncertain."
In fact, the report from Kestenbaum's office shows more than $10,000 in per diem and mileage payments that are flagged "uncertain," meaning they may or may not have been eligible. More than $6,000 of those payments were billed by Ouimet.
In all, more than $26,000 in payments remain in question now — the overwhelming majority of which belong to Ouimet and Ping, the two Republicans on the board.
Commissioners made no decisions Wednesday night on what to do about the report. However, some are questioning the findings, saying it appears some mistakes were made.
Bergman, for example, said several of the meetings red-flagged on her portion of the report should be eligible. She said it appears there was a lack of awareness on the part of the clerk's office that one of the committees she was assigned to had been renamed.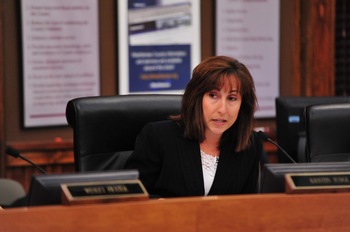 Ryan J. Stanton | AnnArbor.com
Kestenbaum stepped up to the podium during Wednesday's meeting to explain to commissioners that the report was done in response to a request by county administration.
"I consider all of you around this table to be my friends," he said. "I consider all of you to be great public servants, every one of you, Democrats and Republicans. The report that came from my office was never intended as any kind of attack on anyone. As far as I'm concerned, every per diem that was submitted and paid has been in good faith."
Kestenbaum said, in his opinion, it wasn't entirely clear up until this year — when the board put new rules in place — which meetings were and weren't eligible for payment.
Commissioner Judge, a Democrat, noted the only parts of the board rules that changed this year were related to internal financial controls. The authorized meetings for which commissioners are allowed to claim per diems haven't changed, she said.
Kestenbaum, whose office signs off on the expenses, said: "Not everyone reads the board rules. I can't tell you what's exactly in the board rules myself."
Judge, the only commissioner to publicly allege any wrongdoing by Ouimet, said it's a simple matter of right and wrong, and Ouimet repeatedly violated county rules.
"I believe elected officials have the responsibility to read the rules and abide by them," she said, suggesting the board rules related to per diems "are not difficult sentences to read."
Ping read a statement at the start of Wednesday's meeting on behalf of Bridgewater Township Supervisor Jolea Mull, who defended Ouimet's meeting expenses.
"Commissioner Mark Ouimet should be commended, not condemned, for his efforts," it read. "Mark's visits to our local townships and regional meetings have served the interests we all value. We have benefitted from his advocacy as a part of the police services steering committee and we have gleaned economic insight from his leadership on Ann Arbor SPARK."
Questioning Democratic travel expenses
GOP Vice Chairman Wyckham Seelig and Boonstra both gave speeches Wednesday night in which they characterized Ouimet as a victim of hurtful Democratic attacks.
Boonstra said Ouimet has been "pilloried by local Democrats." But he added it's ironic the Democrats have attacked Ouimet for billing the county for multiple meetings on some days when records show Democratic commissioners have done the same.
"For example, Commissioner Irwin: 71 times over the last six years," he said. "Commissioner Bergman: 73 times. Commissioner Schwartz: 53 times. Commissioner Prater: as many as seven times in one day, and Mark was pilloried for four."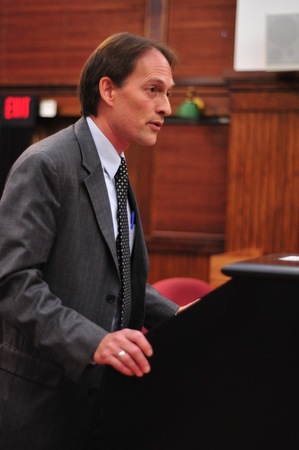 Ryan J. Stanton | AnnArbor.com
Boonstra pointed out that Democratic sources mistakenly stated in reports released to the media that Ouimet had racked up more than $3,600 in out-of-county travel expenses last year. In fact, those travel expenses belonged to Prater, a Democrat.
"The fact is that County Commissioner Mark Ouimet has not charged the county for any out-of-county travel, while the Democrats on this board spend, on average, more than $8,000 per term in out-of-county travel," Boonstra said.
He also presented evidence to show Judge, in her first term in office, has spent more than $8,000 attending conferences around the country in locales as far as Reno, Nevada, while Prater and Smith each have spent nearly $12,000 on travel.
Boonstra specifically called out Judge, making reference to an e-mail she sent in July to Commissioner Bergman in which she "sought to divert extra travel dollars from other commissioners to her own use, and to do so in secrecy," Boonstra said.
In the e-mail obtained by AnnArbor.com, Judge states: "I do not expect you to vote for me to increase my travel expenses, but I do hope that you will not make it a public issue."
Records show Bergman responded via e-mail: "If you ask for the funds, you must do it at a board meeting and your request and subsequent discussion will be a public issue. The rules require a vote by the Board of Commissioners. This transaction must be transparent."
Judge and Prater defended their travel expenses Wednesday night.
"I have followed the rules since I've been here," Judge said. "It's not a matter of whether I spent money to go to a convention. All of the conventions that I've attended, I brought back actual tangibles that are saving residents money, that are bringing in revenue to the county."
Prater said the trips he has taken to places like Florida and Hawaii have a proven return on investment and have helped bring new ideas back to Washtenaw County.
"I think it's important that you do get the opportunity to learn what is new and the opportunity to network, and it's something that we do with all of our employees," Prater said. "As long as it's budgeted and we don't go over budget, there's never been much of an issue."
Boonstra said the attacks singling out Ouimet seem to have originated from Michigan Democratic Party Chairman Mark Brewer, whose communications director, John Tramontana, submitted a Freedom of Information Act request for Ouimet's expenses back in May.
"And then he enlisted his minions here in Washtenaw County to carry those attacks out," Boonstra said. "But now that the Democrats have done this, all of the laundry must be aired, and I've brought it here, and the press has it now, too. And it will be up to the voters to decide whether any of that laundry is dirty, and whose it is, and you know whom to blame for this."
Prater said Boonstra was off-base in his remarks.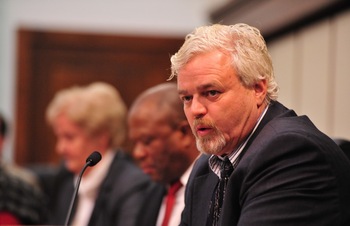 Ryan J. Stanton | AnnArbor.com
"For Mr. Boonstra to get up and make the statements that he's made, without having the facts, is simply incorrect," Prater said, drawing a look of disagreement from Boonstra, who again waved the stack of records in the air from his seat in the audience.
"Those documents speak for themselves, and I'm not going to sit here and tell you I never made a mistake," Prater said. "I may have, but I didn't do it intentionally, and I'm not accusing Mr. Ouimet of anything, and none of this board has accused Mr. Ouimet of anything."
Multiple Democratic commissioners took turns standing up for Ouimet and said they thought the GOP's criticisms were misdirected at the county board. Gunn said although she's a Democrat, she doesn't approve of everything her party does.
"So to accuse us who are elected officials here of some nefarious plot against Mark Ouimet is simply not fair," she said. "I've known Mark Ouimet for a very long time. In fact, he used to be my council member in the 4th Ward, so it's been probably over 20 years. And I have always found him to be a man of honor and upstanding and very gracious."
Commissioner Schwartz diagnosed the problem the way he sees it.
"I think this is Lansing politics being brought here," he said. "I agree with Leah Gunn that the Democratic Party may do things, but the Washtenaw County Board of Commissioners, the Democrats who sit here, we don't control that. We made Mark the vice chair of the board, and we made Jessica (Ping) the chair of the working session because we are bipartisan here."
Ouimet made few remarks Wednesday night, but said "the numbers are what they are." If any of his expenses are determined ineligible, he said, he'll repay the county, but he's still waiting for an independent, nonpartisan investigation of all commissioners' expenses first.
Ouimet said in an interview after the meeting that he attended a National Association of Counties conference in Hawaii during his first term as a commissioner — along with other commissioners — but he paid for the trip out of his own pocket. He said he didn't let the county pay then, and he hasn't let the county pay for any out-of-state travel since.
"I don't know what the other commissioners did, but I can tell you what I did: I paid for it personally," he said. "I just didn't feel that we should be charging outside travel to the county."
Ouimet, of Scio Township, is running for the 52nd District state House seat against Democrat Christine Green, whose supporters have been involved in the attacks on Ouimet.
Ryan J. Stanton covers government and politics for AnnArbor.com. Reach him at ryanstanton@annarbor.com or 734-623-2529.