Posted on
Tue, Aug 3, 2010 : 6:46 p.m.
Washtenaw County Commissioner Ronnie Peterson denies wrongdoing in sexual harassment civil case
By Art Aisner
DETROIT - On a day better suited for last-minute campaigning, Washtenaw County Commissioner Ronnie Peterson was instead on the witness stand defending his reputation in federal court.
For roughly four hours today, Peterson, D-Ypsilanti, deflected criticism from government attorneys and denied any wrongdoing in a sexual harassment civil case brought by six women who rented homes from him in Ypsilanti Township.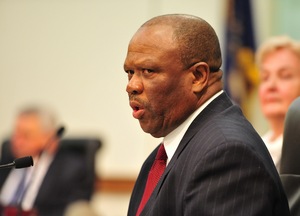 If his distant cousin, Glenn Johnson, made repeated sexual advances toward his tenants while acting as a volunteer rent collector and property manager, Peterson said he was never told about it. Furthermore, the tenants had ample opportunities to call his cell or home phones - listed in the county directory and phone book - or tell law enforcement officers, attorneys and even judges about the sexual harassment.
Peterson, his property-management company, First Pitch LLC, and Johnson are being sued for violating the women's civil rights. Government attorneys said they will seek compensatory and punitive monetary damages for their clients, who are all single mothers with no or little income.
Attorneys for both Johnson and Peterson argued the allegations only came to light after four of the women were evicted for not paying rent.
The government is expected to rest its case shortly after the trial resumes Wednesday morning, and closing arguments could be made later in the afternoon, officials said. The trial started last week.
Peterson, who faces Democrat Mark Namatevs in today's primary election, declined to comment on the case or his re-election.
While testifying, he said he began renting properties in the 1970s and in the 1990s purchased several homes in the township at his father's insistence as a sound financial investment.
They weren't. Testimony showed Peterson lost more than $100,000 on the properties in 2007, and more than $94,000 in 2008. Part of the problem, he said, was that he heavily subsidized the renters' payments and often gave a three- or four-month grace period when they couldn't pay consistently. The tenants also left the properties in bad shape, requiring expensive repairs.
In the meantime, he continued paying the majority of the mortgages, property taxes, and legal fees associated with the properties and landed in financial difficulty himself with little or no rent from tenants over the years.
"I lost my car over this," he declared after Assistant U.S. Attorney Judy Levy pushed him about declared assets on his tax returns.
Peterson also said that despite repeated victories in landlord/tenant disputes, he's never enforced a judge's order to pay and must have at least $100,000 in unclaimed judgments over the years.
"I thought this would be a good-Samaritan thing," he said. "The Lord's been good to me and I wanted to give back, and I thought that giving a person a chance when they were looking for a job, or just started a job, that was my way."
Johnson also was subpoenaed to testify and denied any wrongdoing. During a brief interview outside the courtroom today, Johnson insisted he didn't have sexual relationships with his accusers, and that his wife and son are firmly behind him. He said he and Peterson were victims of an elaborate scheme to ruin the commissioner's political career and get his money.
Johnson vowed to sue the women for defamation.
"This is an attack," he said during a break in the proceedings. "I was totally shocked by the allegations. We tried to help people, and this is what we got in return."
Johnson also emphatically denied an accusation levied at the trial's onset that he had sex with a tenant during a meeting about rent at Ypsilanti High School, where he works security.
The woman could not recall the time, date, or location of the encounter, and she was not seen on surveillance footage, he said.
Other notes from the trial:
• U.S. Attorney for the Eastern District of Michigan Barb McQuade, an Ann Arbor resident, sat in for portions of Peterson's testimony this morning. Court officials said it was her first appearance during the trial, which began last week. It's a common practice for McQuade to appear during trials and hearings, according to attorneys. Neither Peterson nor Johnson has been accused of any criminal wrongdoing in relation to the ongoing case.
• U.S. District Judge Julian Abele Cook nearly resumed court proceedings after a break today without summoning the jury. Upon recognizing the gaffe, the veteran justice sheepishly acknowledged how, once as a prosecutor, he delivered three of his best questions to a hostile witness without realizing the jury hadn't been seated yet.
"That moment was seared into my mind. Now please get the jury," he said with a grin while those in attendance laughed.
Art Aisner is a freelance writer for AnnArbor.com. Reach the news desk at news@annarbor.com or 734-623-2530.