Posted on
Fri, Aug 6, 2010 : 5:21 p.m.
Washtenaw County Commissioner Ronnie Peterson, cousin ordered to pay $115,000 in sexual harassment case
By Art Aisner
A federal jury today found Washtenaw County Commissioner Ronnie Peterson and his property management company fiscally liable for allowing a manager to sexually harass female tenants.
Peterson, D-Ypsilanti, and Glenn Johnson, a distant cousin, were ordered to pay a total of $115,000 to the six women by the jury late this morning, officials said. The panel of five men and two women deliberated for more than 10 hours following the week-long trial in Detroit federal court.
Court records show the jury ordered both Peterson and Johnson to pay compensatory and punitive damages to be split among the six women. 
Johnson, who works security at Ypsilanti High School, must pay $51,775 in punitive damages for his repeated sexual advances to the women. Records show Johnson is also required to pay $36,510 in compensatory charges.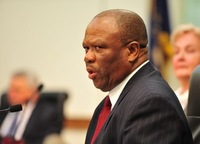 Peterson will be required to pay a total of $26,295 in punitive damages, with the largest chunk - $7,590 - going to plaintiff Sharee McClendon. She testified she had sex with Johnson following threats of police harassment and eviction.
All the victims are single mothers who were on the verge of homelessness and were vulnerable to manipulation, government attorneys said.
At least two of the women indicated they told Peterson or his wife about the sexual harassment, but they did nothing. 
The government sued Johnson, Peterson, and his company, First Pitch LLC, in 2009, saying the sexual harassment violated the Fair Housing Act, which prohibits discrimination in housing by race, color, religion, sex, or familial status.
Peterson, who won the primary Tuesday and advances to the general election for a chance to serve another two-year term on the county board, denied knowing about the pattern of harassment. He testified he knew most of the women through familial ties for friends, all of them had his telephone numbers, and that as an elected official, he was easily accessible.
He and attorney Don Ferris also argued none of the women told police, prosecutors, or even judges presiding over their evictions about the harassment, and four fought to stay in his Ypsilanti Township rental units.
Peterson could not be reached for comment following the verdict.
Ferris said Peterson was happy the jury didn't find the government's request of $350,000 in damages reasonable. He also said jurors made the legal distinction that Johnson, who was an unpaid volunteer, was an agent of Peterson's company.
"They didn't find that (Peterson) was discriminatory against anyone," Ferris said. "He respects the jury's decision and will do what he can to pay."
Johnson, who also testified per a government subpoena, said he thought the case was going in their favor after the women couldn't provide specific details about the time, places and locations of the alleged sexual advances and encounters. He said he also believed their testimony about seeking money from Peterson and the company would sway jurors.
"We were both totally shocked," Johnson said of his and Peterson's reaction upon hearing the verdict. "I mean, I tried helping these people with housing, and this is how it ends?"
He said he intends to appeal and wants to sue the women for defamation.
Government officials said the case was a significant triumph for women who face harassment and unwarranted intimidation.
"Today's verdict sends a message to landlords and rental agents that they cannot abuse their positions and sexually harass tenants," Barbara McQuade, the U.S. Attorney for the Eastern District of Michigan, said in a written statement. "Women should be safe from sexual harassment in their own homes."
Details about when and how the payments will be made have not been determined.
Art Aisner is a freelance writer for AnnArbor.com. Reach the news desk at news@annarbor.com or 734-623-2530.