Posted on
Fri, Nov 18, 2011 : 5:59 a.m.
Washtenaw County considers creation of food policy council to address local health issues
By Ryan J. Stanton
Washtenaw County officials are considering the creation of a countywide food policy council to address some of the health problems facing local residents.
A recent survey showed the general health of more than 12 percent of the county's population is reported as being fair or poor.
Meanwhile, 59.1 percent of adults in Washtenaw County — more than 163,000 — are considered overweight or obese, and that figure is growing.
"Access to healthy food really helps us be able to help people all across the developmental stages keep their weight under control, which puts them at less risk for developing chronic diseases or getting into stages like pre-diabetes — which we know is on the rise for younger people and teens," said Sharon Sheldon of Washtenaw County Public Health.
Sheldon presented the idea for the Washtenaw County Food Policy Council to the county board during a special working session Thursday night. She said the idea originally came out of discussions at Food System Economic Partnership Policy Committee meetings.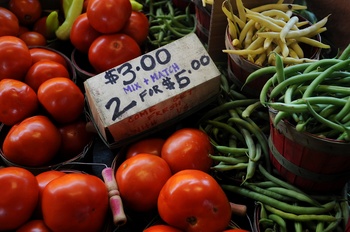 Melanie Maxwell | AnnArbor.com
"We're looking at lots of different things as far as chronic diseases that are related to nutrition," Sheldon said. "And one thing we can say for sure is that food is one of those kind of very central issues that really does contribute to a person's health overall and their quality of life."
The concept of a food policy council isn't new. It's been done in other communities, including in Detroit and Grand Rapids, and there's even a Michigan Food Policy Council.
"We know that food policy councils are on the rise around the country, so this isn't an isolated thing," Sheldon said, adding there's definitely a need for one locally.
Sheldon said food policy councils bring together a broad array of food-related groups — both public and private — to investigate every stage of the food system.
"So it really looks very broadly from seed to table, from the growers to the eaters," she said. "And we know there are a lot of food-related groups here in Washtenaw County that are doing a lot of different things. We're looking for some more coordination across those groups."
A local food policy council, Sheldon said, also would link with state efforts — such as the Michigan Food Policy Council, Michigan Good Food Charter, Healthy Kids and Healthy Michigan — to gain momentum on both state and local policy priorities.
One of the goals, she said, would be to increase access to healthy foods for low-income and vulnerable residents. That would include making sure people who qualify for food stamps are applying for them, and that they can use them at places where fresh fruits and vegetables are sold — including farmers markets and grocery stores.
Data presented at Thursday's meeting suggest the number of grocery stores in Washtenaw County is decreasing while the number of restaurants is increasing.
"We're also looking at addressing agricultural regulations and ordinances to try to increase the local food supply," Sheldon said, citing the Michigan Good Food Charter as inspiration.
Beginning in late 2009, three organizations — the C. S. Mott Group for Sustainable Food Systems, the Food Bank Council of Michigan, and the Michigan Food Policy Council — came together to work on developing specific goals for Michigan's food system.
The Michigan Good Food Charter outlines six goals to achieve by 2020 and 25 agenda priorities. One of those goals is that Michigan institutions will source 20 percent of their food products from Michigan growers, producers and processors.
Another goal is that 80 percent of Michigan residents (twice the current level) will have easy access to affordable, fresh, healthy food — 20 percent of which is from Michigan sources. There also are nutrition goals for school meals and a goal that Michigan schools will incorporate food and agriculture into their K-12 curriculum.
Sheldon cited St. Joseph Mercy Health System as an example of a Washtenaw County institution that's doing well to source healthy food from local growers.
"Probably if you've driven by their campus, you see that they have a farm on the site," she said. "They have a resident farmer. They have growing food that's going right into their hospital cafeteria. They're very interested in sourcing from local growers."
Sheldon said one of the goals of a food policy council would be to encourage more of that behavior in Washtenaw County.
Washtenaw County Public Health secured grant funding through the Michigan Department of Community Health in the 2010-11 fiscal year for the development of a food policy council.
Sheldon said the county has been exploring the idea with FSEP ever since, and there's talk of using additional state funding to hire a part-time council coordinator.
Commissioner Yousef Rabhi, D-Ann Arbor and chairman of the county board's working session, said he hopes to schedule another meeting in 2012 to more fully discuss the issue.
Ryan J. Stanton covers government and politics for AnnArbor.com. Reach him at ryanstanton@annarbor.com or 734-623-2529. You also can follow him on Twitter or subscribe to AnnArbor.com's e-mail newsletters.