Posted on
Thu, Jan 13, 2011 : 3:33 p.m.
Washtenaw County lawmaker Rick Olson ready to tackle tax policy and transportation issues
By Ryan J. Stanton
Freshman state Rep. Rick Olson, R-York Township, will be in on the ground floor as Michigan lawmakers confront major budget challenges and consider tax reforms.
Olson — who represents a district that includes Pittsfield, Saline and York townships in Washtenaw County and parts of Monroe County — has been chosen to serve on the state House committees on Tax Policy, Banking and Financial Services and Transportation.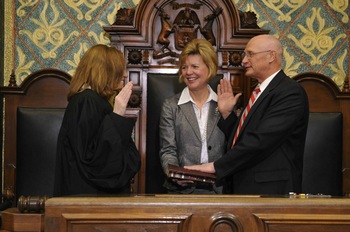 Courtesy photo
"I'm grateful to have been assigned to committees that will make a major impact on the way we do business from this point forward," he said in a statement. "The business climate in Michigan needs to improve vastly, and all of these committees will play a major hand in that process."
Olson, a semi-retired business manager and attorney with extensive agricultural business background, was sworn in as the 55th District's new representative on Wednesday — along with 61 other new members of the House.
"I've been ready to get to work since I was elected, and I'm enthused about being here," he said. "There is lots of activity in Lansing already, and I think the consensus here is that business as usual is over, and it's time to tackle some heavy stuff."
Olson, elected in November, believes his experience in both the public and private sectors will serve him well in the Legislature. He has a background in politics in the state of Washington, where he was an attorney for the state Legislature for three years.
He considers his assignment to the Transportation Committee valuable for the 55th District, which — in addition to portions of Washtenaw County — includes Milan, Dundee, Summerfield, Whiteford, Bedford and Erie townships in Monroe County.
"We definitely need to work on solutions for funding," Olson said. "The roads throughout the state and particularly in Monroe County could use quite a bit of improvement."
Olson was one of two dozen newly elected area state lawmakers who attended Metro Detroit Day on Jan. 7. The full-day session hosted by the Southeast Michigan Council of Governments was coordinated by Olson and five other freshman lawmakers.
The goal of the session was to inform legislators about issues specific to Metro Detroit and build bipartisan relationships among the region's lawmakers.
"It was a great success," Olson said. "We saw the good, bad and ugly of Metro Detroit. The attendees were surprised at many of the good things that are happening around the city they were unaware of, such as the redevelopments occurring along Woodward Avenue."
Click here to visit Olson's website or to find contact information for his office.
Ryan J. Stanton covers government and politics for AnnArbor.com. Reach him at ryanstanton@annarbor.com or 734-623-2529.