Posted on
Mon, Mar 7, 2011 : 5:59 a.m.
Washtenaw County man in his 60s dies of influenza, Health Department reports
By Juliana Keeping
A county man in his 60s has died after contracting the flu, Washtenaw County Health Department officials said Friday.
His is the first reported local influenza death this flu season.
The Health Department can't release details on the death, except to say that it occurred in recent weeks and that the man had severe underlying disease, Public Health epidemiologist Laura Bauman said.
"All forms of influenza can cause hospitalization, but the most severe types have been A," Bauman said.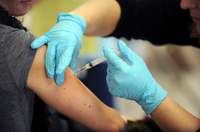 H1N1, a strain of influenza A that first appeared in 2009 when it was dubbed the swine flu, is still circulating. Strains of influenza A and influenza B also have been identified.
Sixty four individuals have been hospitalized with the flu in Washtenaw County since Oct. 1, Bauman said, with about 47 of the hospitalizations occurring since Feb. 1.
"One to two hospitalizations for the flu are being reported every day," Bauman said.
Of the 54 hospitalized individuals whose vaccine status was known, 65 percent did not have the seasonal flu vaccine. Forty three percent of individuals hospitalized were obese, compared to 18 percent in Washtenaw County's population, Bauman said. And three individuals hospitalized were pregnant women. The flu puts pregnant women and the babies they carry at an elevated risk for severe illness and death, Bauman said.
The hospitalized individuals have ranged in age from 3 weeks to 90 years old, but most have been between 18 and 64 years old.
Bauman said it's not too late to get the vaccination.
In 2010, the CDC recommended everyone 6 months and older get a flu vaccine as it becomes available, a more comprehensive recommendation than in years past, health department officials said.
The 2010-2011 shot covers three types of influenza predicted by the World Health Organization as most at risk of showing up in the flu season mix. The latest shot covers the H3N2 virus, an influenza B virus, and the 2009 H1N1 virus. The mix changes every year.
Where to get the flu shot: Flu vaccines are available from area pharmacies, local health care providers and at Washtenaw County Public Health. Appointments at the public health department can be scheduled by calling (734) 544-6700. Google's flu vaccine finder is available at www.google.com/flushot.
This story has been updated to reflect the fact that, of 54 people whose vaccine status was known, 65 percent of them did not receive the flu vaccine.