Posted on
Wed, Oct 3, 2012 : 7:24 p.m.
Washtenaw County public school districts continue to see declining enrollment on Count Day
By Danielle Arndt
Editor's note: This story was updated at 12:45 p.m. Thursday with Dexter's unaudited Count Day total.
All of the public school districts in Washtenaw County, with two not reporting, tallied a decrease in enrollment Wednesday for student count day, while 10 of the county's charter schools saw an increase in enrollment for 2012-13.
Daniel Brenner I AnnArbor.com
The fall count in
Michigan
's school districts and charter school academies is the day that determines 90 percent of the annual funding for the educational entity. The remaining 10 percent is determined by the spring count.
Because this is the funding formula, Count Day traditionally has carried a lot of weight for public school districts. However, new this year, districts have the opportunity to continue counting and collecting dollars for students after the first Wednesday in October.
A change in the State School Aid Act will benefit districts that attract students during the school year, and cost districts that lose students mid-year. Prior to the change, districts could not get paid for any new student that enrolled after Count Day. Now, the new district can request a daily prorated amount of state aid from the transfer student's former district.
This is expected to be coordinated through the state's intermediate school districts.
While the intention of the new stipulation is good, Washtenaw Intermediate School District Superintendent Scott Menzel said there are too many logistical challenges to the implementation of this stipulation to go into effect this school year. He said there are efforts by the state's ISDs to prolong the implementation.
Menzel said the questions about how to collect the money from a student's new district are plentiful, but include: Is it mandatory for districts to seek the prorated amount of per-pupil dollars? What happens if the student bounces districts multiple times? How will the transfer of the money be tracked? How are the payments processed?
"We need additional time to address these questions with the state," Menzel said.
He said the change to the School Aid Act was made in part because people complained to Lansing that students were starting out in charter schools and then transferring to their home districts after Count Day. But he said in Washtenaw County, this movement is minimal and is really not an "epidemic" like in some counties.
In total, the 12 charter schools in Washtenaw County have boosted enrollment by more than 28 percent since fall 2011.
Ann Arbor Public Schools officials declined to provide preliminary Count Day numbers. Spokeswoman Liz Margolis said a district total may be available at the end of the week or at the end of the 10-day period the state allows for reporting.
Dexter school officials did not return phone calls seeking count data Wednesday. Superintendent Mary Marshall told AnnArbor.com Thursday Dexter's unaudited enrollment is 3,566.
"This is a drop of 27 students," she said. "We budgeted for a drop of 25 students, so we are very close to our projections."
The charter school enrollment increase has had the greatest impact on the Ypsilanti-area public schools.
Despite Willow Run Community Schools seeing consistently lower enrollment numbers since 2009, Superintendent Laura Lisiscki budgeted optimistically this year with the closing of Victory Charter Academy, previously located next door to Willow Run High School. She said district officials thought they would be able to capture some of those students.
"We budgeted for 50 more (students) than we had last year, so from the projected (enrollment) it's like we're down 150 from the projected number," Lisiscki said.
Willow Run Community Schools reported 1,328 students showed up on Count Day, about 181 students down from last year's total of 1,509. The loss of 181 students is equal to $1.3 million in lost revenue.
Ypsilanti Public Schools tallied 3,357 students, down 231 students from what the district budgeted for for the 2012-13 academic year.
Lincoln schools lost the greatest number of students, 247, a decrease of 5.43 percent in its total population. The decline is equivalent to $1.7 million in lost revenue. However, school officials reported there were 106 students absent on Count Day.
Manchester Community Schools budgeted for a loss of 30 students for 2012-13, based on losing 30 students last year. However, its Count Day enrollment was down by just 17 kids, said Superintendent Cherie Vannatter, saving the district's budget nearly $162,000.
"Every little bit helps," Vannatter said.
Manchester receives $7,043 per pupil from the state.
Vannatter attributed the downward trend in enrollment to Manchester families being forced to move from the state or out of the area for jobs.
She said the number of Schools of Choice students enrolling in the district has been on the rise. In 2011, Manchester admitted 88 students via Schools of Choice. This year, that number grew to 104.
Vannatter said the majority of Manchester's Schools of Choice students are coming from Jackson and Lenawee counties.
Milan Area Schools lost the greatest percentage of its student population from 2011 to 2012 in Washtenaw County — 188 students or 7.27 percent. Superintendent Bryan Girbach said the "overwhelming majority" of the district's loss can be attributed to low birth rates.
"Our kindergarten class is 100 students smaller than our 2012 graduating class," he said, explaining Milan planned for a decrease in enrollment this year. "The loss was expected. However, Milan did lose a few more students than projected in our preliminary budget."
The district receives $6,966 per pupil, so the decline of 188 students will cost Milan schools a total of $1.3 million.
Saline Area Schools' officials also cited small kindergarten classes as a factor in its loss of 42 students.
Saline had 5,299 students enroll in fall of 2011 and 5,257 as of Wednesday for 2012. The district budgeted to lose 70 students this school year, so losing just 42 students will save the district's budget $200,844.
At Chelsea School District, K-12 enrollment numbers appeared to be the same as last year, 2,465 students, said Vicky Lawrence administrative assistant to the superintendent.
"We are actually very pleased to be at a 'break even' point with enrollment," she said. "This is the first time in several years we have not seen a decline in total enrollment."
Chelsea's budget was based on a projected loss of 40 students. So with a foundation allowance of $7,180 for 2012-13, the "break even" count helps the district's budget by about $287,000, Lawrence said.
Chelsea schools also had a smaller incoming kindergarten class than usual, causing K-5 enrollment to be down "a bit," Lawrence said. The district made up for it with significant gains in sixth and ninth grades, she added.
At Whitmore Lake Public Schools, officials reported 1,096 students were in attendance on Count Day. That's a loss of eight students and about $55,700, according to fall 2011 enrollment information provided by the Center for Educational Performance and Information.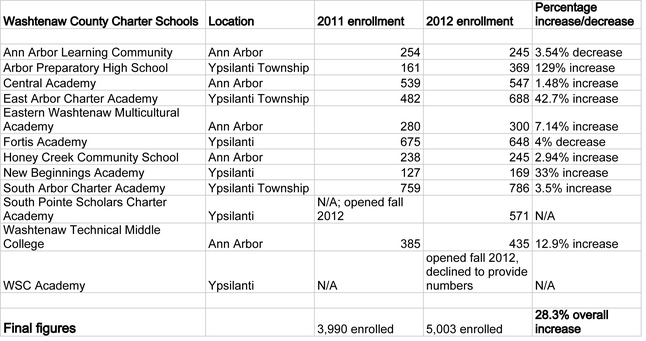 Katrease Stafford | AnnArbor.com
Danielle Arndt covers K-12 education for AnnArbor.com. Follow her on Twitter @DanielleArndt or email her at daniellearndt@annarbor.com.