Posted on
Thu, Mar 3, 2011 : 5:57 a.m.
Washtenaw County school officials prepare for special education millage renewal campaign
By Kyle Feldscher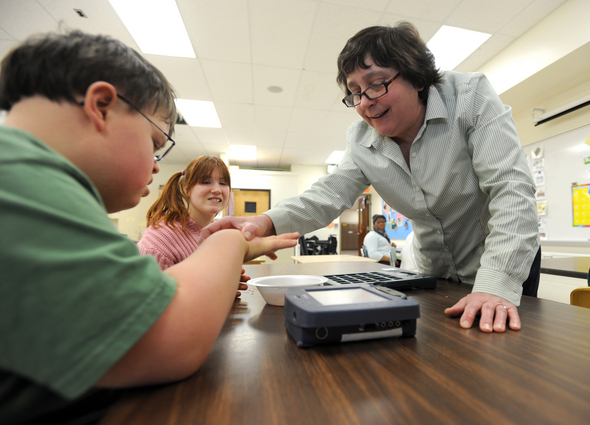 Lon Horwedel | AnnArbor.com
The failure of the Saline Area Schools bond proposal on Feb. 22 has put a spotlight on the renewal of the countywide special education millage coming up in May.
School officials from around the county are preparing for the campaign with the knowledge that voters are wary of opening their wallets for taxes. However, most leaders are optimistic past support for special education will continues in the spring vote.
Voters in Saline turned down an extension of the school bond renewal with a vote of 2,563 to 2,040.
The Washtenaw County Intermediate School District is asking voters to approve a .985 mill renewal on May 3, which will go to schools to help with the added cost of special education services. The millage will cost the owner of a home with a taxable value of $100,000 about $98.50 annually and will last until 2017.
Richard Leyshock, interim superintendent of the WISD, said it's essential that school officials communicate the need for the renewal, which helps provide funding for about 7,000 students around the county who receive special education services in local school districts and public school academies.
"For more than 35 years, special education has been making a difference in the lives of students in Washtenaw County," he said. "Because Washtenaw County voters have a history of supporting children with special needs, we remain optimistic in their continued support."
About $14 million is at risk in the May vote, school officials said. The federal government mandates special education services be provided, so if the millage is turned down school districts will need to fund the services out of their general fund.
At a glance

Here are some facts about special education services in Washtenaw County:

About 7,000 students around the county receive special education services.
Local schools are required to provide special education services for students with mental, physical or emotional disabilities until age 26.
The special education millage up for vote on May 3 provides about $14 million annually to schools countywide.
The WISD operates six local-based K-12 classrooms, seven young adult classrooms around the county and eight classrooms at High Point School on the WISD's campus, serving about 240 students.
State and federal government require special education services in public schools, but only provide about 34 percent of the funding for services.
For more information, visit the WISD's website
Leyshock said the .985-mill tax rate the WISD is asking to be renewed is less than the 1-mill tax rate voters approved in 2004.
In the days and weeks before the Feb. 22 vote for the Saline bond — which would have gone mainly toward infrastructure — school district officials faced an organized opposition from both Saline residents and outside groups.
One of the outside groups that made calls to encourage Saline residents to vote against the school bond issue was Americans For Prosperity.
Jake Davison, a spokesman for AFP's Michigan chapter, said the group would help out in providing an opposition to the special education millage if local members asked it to.
"There's no plans right now to get involved, but if we're asked again by local members we will get involved," Davison said.
Saline superintendent Scot Graden said much of the opposition his district's bond issue faced was directed at the debt nature of the bond. The bond, which would have continued the 7-mill tax rate, was poised to add $22 million in new debt to the current $124 million bond by extending repayment from 2025 to 2031.
He said eight of 15 bond proposals around Michigan passed on Feb. 22, giving a bond close to a 50 percent chance of passing on that day.
Graden said he didn't see a real connection between the Saine bond and the county special education millage.
"With more than 35 years of community support and the leadership at the WISD, Washtenaw County has been a leader in providing quality special education services for our students," he said.
Ann Arbor school board Trustee Glenn Nelson, who is heavily involved in special education issues with the WISD, said he assumed the millage renewal will come up against a similar opposition as the election draws closer.
"I have no way of really knowing, but it seems like to me it's the right thing for us to assume as we think about making the case for passing the special education millage," he said. "It will be in the context of a similar type of opposition and we shouldn't act surprised."
Lon Horwedel | AnnArbor.com
Deb Mexicotte, president of the Ann Arbor school board, has a child who utilizes special education services, and said she hopes voters in the county show they were willing to support their schools in the vote.
She said she understood why voters in Saline would turn down the bond issue, but money for needs such as facility improvements or special education services has to come from somewhere.
"If we, in this county, are not willing to step up and take the reins of the educational future for our children, we can expect that our quality of life is going to erode," she said. "That's not being an alarmist, that's being a realist. … There's going to be things that have to be done, and they're going to come from the general fund."
If county voters turn down the millage, it could have a major effect on Ann Arbor Public Schools, the county's largest district.
Interim Superintendent Robert Allen said the district has about $6 million on the line in the May vote. The district is reimbursed for special education services to the tune of $20 million annually.
With the district staring at losing about $7.7 million in cuts from Gov. Rick Snyder's proposed budget, along with about $1.7 million in increased retirement costs, the loss of the special education funding would have a big effect on the district's general fund. AAPS' approved operating budget for the 2010-11 school year is about $182.95 million.
Mexicotte said about 2,000 of the district's approximately 16,500 students receive special education services.
She said the cuts in funding from Lansing have already caused the district to start "nibbling" around classrooms in ways not previously considered.
"It would be a nightmare from the standpoint of my feelings for the children and young people in Washtenaw County," Nelson said of the situation if the millage renewal failed and Snyder's budget cuts went through as proposed.
"I haven't even contemplated what that would mean, but it would be massive (cuts) rather than trimming."
Allen said the lesson he took from voters in Saline turning down the school bond was that voters are concerned about economic realities in Michigan.
He said it's important for school officials during the campaign to show where the taxpayers' money would go and explain various districts processes and programs to show why it's important to keep funding special education, even during tough times.
"We have to continue to work hard to inform the public of what the impact of this millage will be," he said. "When you factor in the current economic climate, I don't think we've faced anything like what we've faced over the last couple of years, so the local economy and state economy is in a different place, so I'm not sure if the prior 35 years are going to be relevant."
Kyle Feldscher covers K-12 education for AnnArbor.com. He can be reached at kylefeldscher@annarbor.com.