Posted on
Sun, Dec 13, 2009 : 6:05 a.m.
Washtenaw County school officials say state funding system for education is broken
By David Jesse
As Washtenaw County school districts struggle to balance their budgets - considering everything from layoffs to halting busing - leaders say it highlights a larger problem: state funding.
It's an issue that can quickly rile school board members and district administrators.
The problem, they say, is they have such little control over the funding stream and must prepare their budgets not knowing how much to expect from the state.
Since 1994, school districts have seen more and more of their financial health taken out of their hands and given to the state.
The state legislature decides how much money to give to districts for their per-pupil state aid, which is now their main revenue source. The state controls one of the biggest expenses for districts - retirement costs.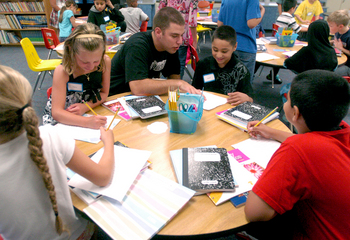 And as the school year moves along, the state often takes money back, restores it and takes it back again as state revenues ebb and flow, making managing budgets tough sledding.
That's what happened this year. State budget cuts earlier this fall included a $127 per-pupil cut. On Thursday, Gov. Jennifer Granholm rescinded that cut, but school officials believe it will be reinstated, perhaps as early as January.
That example is indicative of the broken funding system, officials say.
But the fact that the system is broken shouldn't be a shock to anyone, said Tom Watkins, who as the state superintendent of schools from 2001 to 2005 issued reports and papers on the problems the state was facing to fund schools.
"It's déjà  vu all over again," he said. "This should not come as any surprise to anyone. The issues began well before now. Proposal A was pretty good until 1998 or so. It, like a 1994 car, needed tune-ups along the way. Now we see the wheels coming off."
State funding now
Prior to Proposal A becoming law in 1994, school districts had a lot more control over the revenue side of their budgets.
They could ask voters for operating millages when they needed more money.
But as part of Proposal A's overhaul of the tax structure in Michigan, that ability was taken away. Districts now can't ask for operating millages - although they can still seek tax increases for capital expenditures like facilities.
After Proposal A, districts became almost completely reliant on the state for the money they need to run schools. Before that, school districts were responsible for approximately 68 percent of school funding. The state is now responsible for providing approximately 80 percent of school funding.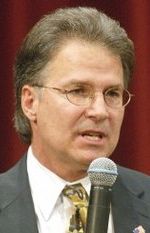 The purpose of the proposal was to reduce property taxes, reduce the need for local millages for education, increase the state share of total revenue for K-12 education, and provide a guaranteed minimum per-pupil level of funding.
"Proposal A, supported by a thriving economy in the 1990s, provided a Band Aid that temporarily stabilized school funding," Watkins wrote in a 2004 report to the state school board. "Three straight years (2002 through 2004) of flat funding levels have stressed schools financially and academically."
That stress has continued. Districts are now projecting a $400-plus per student cut for next year - on top of whatever gets cut this year. As of Friday, that didn't include the $127 per-pupil cut, but did include other reductions.
Ann Arbor Superintendent Todd Roberts said he isn't banking on getting the additional $127 per student announced by Granholm Thursday.
"It's not going to change what we're doing," he said, alluding to the $8 million in cuts the district is looking to make this school year. "Unless the state finds an additional revenue source for the school aid fund, there's still going to be a shortfall - if not this year, then next."

The cuts often come in the middle of the school budget year, making finding areas to reduce expenses more problematic.
A school district's fiscal year starts in July, and it has to have a balanced budget adopted before then. The state's fiscal year starts Oct. 1.
"Frustration is probably a mild term," Roberts said. "We're six months into our fiscal year, and we still don't have a total amount of money the state is giving us. It makes it really difficult to plan. Until the state addresses the structural issues, we're going to have difficult times."
A warning
As Watkins prepared his 2004 report on school funding, school districts saw a $74 per-pupil reduction. Districts administrators were complaining about falling revenues, and school boards were making tough cuts.
"A holistic approach is needed that recognizes the limitations of Proposal A to fund schools appropriately during economic downturns," Watkins wrote. "Policy decisions to fund schools on a per pupil basis will continue to have significant impact on urban school districts… A new approach will require everyone to let go of deeply entrenched constraints and the 'we've always done it this way' mentality. We are challenged to take a fresh look at how business is conducted. Inability or unwillingness to act is detrimental to Michigan, its communities, families and most importantly, its children.
"Widely recognized is the fact that an overhaul of the school finance system is meaningless if it is not accompanied by comprehensive efforts to improve efficiency, effectiveness and equity."
That report joined a chorus of other voices that winter, including the non-partisan Citizens Research Council, in pointing out the problems with the way the state funds schools.
It followed a 2002 report that raised the same issues.
A lack of action
Nothing has been done to remedy the root problems at the state level.
"The easy thing to do is to kick the proverbial can down the road," Watkins said. "(The governor and legislature) both keep just trying to put another bucket under another hole in the ceiling."
Political will to make significant changes in the way Michigan funds education has been lacking, said John Austin, vice-president of the state board of education and an Ann Arbor resident.
Roberts agrees.
"Part of it is the partisanship in Lansing," he said. "One side is saying we have to look for additional funding. One side is not willing to look. The bottom line is there's a serious revenue issue going on with the school aid fund. There's no bipartisan willingness to identify the necessary revenue sources. It's an unfortunate stalemate."
Ann Arbor resident Eileen Weiser, a former state school board member, said politicians weren't really pushed to make changes.
"They didn't have to. There was plenty of money to sustain what they were doing," she said.
In that way, the current financial problems may be good if they force the state to take action, Weiser said.
Overhaul needed
Almost everyone agrees change is needed in the way Michigan funds education.
"We are at a moment when we need to accelerate the restructuring of the school system," Austin said. "We haven't gotten very far yet.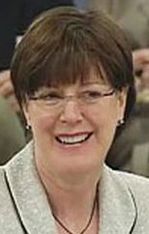 "We don't want to go back to the good old bad days (of local districts being able to ask voters for large operational millages). That just would make the rich richer."
One of the criticisms of the old funding method was it created high property taxes and wide gaps in per-student funding between districts.
Austin said the state and school districts need to look at benefits and consolidating services - and perhaps even districts.
Weiser and Austin both point to inefficiencies in education across the state.
Watkins agrees.
"We need to ask ourselves why we have curriculum directors at every district when curriculum is driven largely now by the state," he said.
He said the inefficiencies could hurt efforts to increase revenue through higher taxes.
"I don't think taxpayers are ready - at the local level or at the state level - to tax themselves unless there's more restructuring and reform," Watkins said. "The question that needs to be asked is - if you discovered this place, and have X number of student and X number of dollars, would you have the system you have now? That's the type of revolution you need."
David Jesse covers K-12 education for AnnArbor.com. He can be reached at davidjesse@annarbor.com or at 734-623-2534.