Posted on
Tue, Aug 9, 2011 : 2:43 p.m.
Wave of mosquitoes prompted by late July rain making themselves at home in Washtenaw County
By Ben Freed
They love hot and humid weather, buzz in and out of our ears, and can be the bane of backyard barbecues. And lately, it's been worse.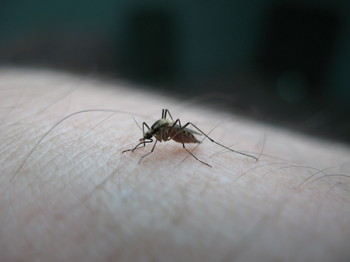 Mosquitoes are back with a vengeance in southern Michigan, their ranks swelled by a perfect storm of alternating floods and dry spells.
"This is another batch of what we call summer flood water mosquitoes," Dr. Michael Kaufman, professor of entomology at Michigan State University, said. "These bugs are the result of the flooding we had about two weeks ago.
"They take about a week or two to fully develop and start biting people, so this is just about perfect timing for them."
The flooding occurred in the last week of July, when Ann Arbor received more than six inches of rain water in two days, and many other areas were similarly affected.
Brian Hayes of Sharon Township lives near marshland that is a traditional fertile breeding ground for the blood suckers.
"This is my fifteenth year here, and this year had been a very good year because we have a lot of predators that keep the mosquitoes at bay," Hays said.
"But then in the first week of August we started seeing more and more, and then there were just a ton everywhere."
According to Kaufman, the summer flood water mosquitoes will be around for a while. They have an average lifespan of about two weeks and can live for up to a month if the conditions are right.
Despite large numbers of mosquitoes, incidents of diseases borne by the insects have been low this summer.
Susan Cerniglia at the Washtenaw County Health Department said that while they don't track mosquito numbers, they do track indicators for West Nile virus.
"Clusters of dead birds in certain areas can be a sign that the virus might hit an area," she said. "We ask residents to report any dead birds, and there has been very little activity on our hotline this year."
Last year there was one case of West Nile virus in Washtenaw County, and there have been no reported cases yet this year.
Kaufman said the summer flood water mosquitoes are not generally carriers of the virus, or Eastern equine encephalitis, another disease spread by mosquitoes. He did say dog owners should be wary of the bugs.
"They aren't very dangerous to humans, beyond the annoyance of the buzzing and biting," Kaufman said. "They are believed to carry dog heartworm, though, so pet owners should make sure their dogs are keeping up with their medication."
He added that this time of year is when populations of mosquitoes that breed more permanently tend to increase.
Hays said he's been seeing larger and more "scary" mosquitoes than in the past, that he believes he has identified as Asian tiger mosquitoes.
"I was out in my garden, and this thing came up to me and landed on me like a little helicopter," he said. "It was so big I thought it was a hornet and then I was like, 'Whoa! This is a mosquito.'"
Kaufman said this might not be the last wave of mosquitoes we have. More flooding rains could lead to another wave that could add to or replace the current swarms.
"Mosquito season can last all the way into October," he said. "It depends when we get our first hard frost, that usually gets rid of them until next summer."
Another flooding patter could start the cycle all over again. For now, area residents will have to slap on the bug spray and take solace in the fact that there are no heavy rains in the forecast for the next 10 days.
Ben Freed is a summer intern at AnnArbor.com. You can reach him by email at benfreed@annarbor.com or by phone at (734)-623-4674. Follow him on Twitter @BFreedInA2.