Posted on
Mon, Mar 11, 2013 : 5:57 a.m.
Where raisin bread reigns: Angelo's Restaurant serving up breakfast and lunch since 1956
By Janet Miller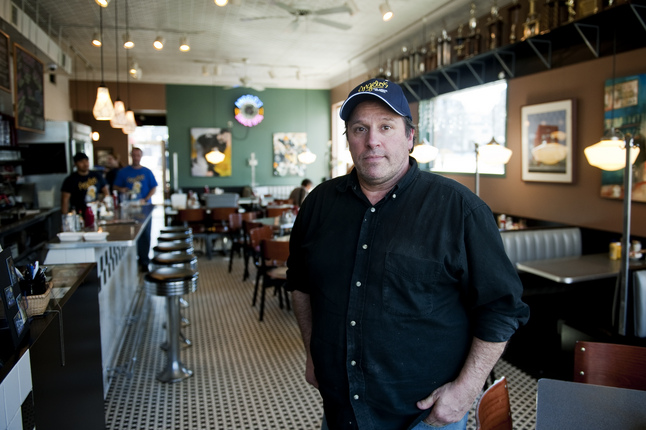 Daniel Brenner I AnnArbor.com
For Ann Arbor's gastro-nostalgics, the list runs from the Whiffletree and Pan Tree to Indian Summer, Eden's, Drakes and of course, Angelo's.
But unlike the others, Angelo's Restaurant, with its signature loaves of raisin bread and long weekend lines that snake around the corner, is one of the few Ann Arbor restaurants to survive more than five decades of changing tastes and changing times, remaining at the same location on the corner Glen Avenue and East Catherine Street since 1956.
The restaurant on the edge of the University of Michigan medical campus has been immortalized in the Dick Siegel song "Angelo's" and on the pages of national magazines, including Bon Appetit. This month, it topped an AnnArbor.com poll of the best breakfast joints in Washtenaw County, and is now a finalist for a statewide title.
It's a reputation, said owner Steve Vangelatos — whose father, Angelo, opened the restaurant — that can feel heavy to carry. "It can be hard to live up to the reputation," he said. While his father died in 1989, his mother Patricia, who as hostess was the public face of Angelo's for decades, still lives in the area.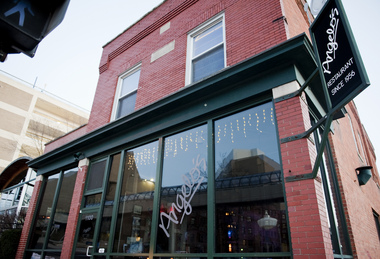 Daniel Brenner I AnnArbor.com
Angelo Vangelatos arrived in Ann Arbor from Greece in 1951, starting work as a dishwasher in a downtown restaurant. By 1956, he had saved enough money to open his own diner kitty-corner from what was then St. Joseph Mercy Hospital on North Ingalls Street. Coincidently, he bought the restaurant from another Greek immigrant named Angelo, his son said. "He didn't have to change the sign."
It was his father's decision to save and buy the building - and eventually adjacent buildings and a parking lot - that has helped Angelo's survive the years, Vangelatos said. There is no landlord to boot them out or raise their rent.
"There have been a lot of other restaurants that didn't own their building who were forced to leave, they had no choice. They walked out with nothing," he said. "My father was adamant."
In its early days, Angelo's was a typical Greek-owned diner, Vangelatos said, with orange booths and wood paneling and serving eggs over-easy, bacon and French toast made from store-bought bread. "It was much simpler than it is now," Vangelatos said.
The creation of Angelo's homemade raisin bread has nearly morphed into myth. Vangelatos isn't sure it's true, or even of the year, but the story goes that a customer suggested Angelo make his own bread rather than serving store bought bread.
He followed the suggestion, making loaves of white bread using a family recipe. One day, Angelo serendipitously tossed in a handful of raisins, but served it only as raisin toast. It would take another nudge from a customer before Angelo would agree to use his raisin bread for French toast.
Today, raisin French toast and deep-fried raisin French toast are some of the biggest sellers, with Angelo's churning out between 300 and 350 loaves of the raisin bread each week.
"I am convinced that if my father was still alive, he'd still be down here baking bread," Vangelatos said.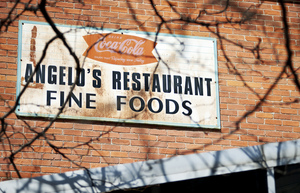 Daniel Brenner I AnnArbor.com
When he joined the family business in the late 1970s, Vangelatos oversaw a number of changes, including the addition of new menu items such as Eggs Benedict, eggs Florentine, lox, pumpkin pancakes and a Reuben sandwich. He also paved the way for cosmetic changes, installing a tin ceiling, new tile floor, seating and decor that includes a classic neon wall clock with Angelo's name on it. He also eliminated serving dinner, closing after the lunch crowd. He'd seen his father work from morning until night seven days a week. Vangelatos wanted time with his family.
Angelo's grew, adding a sunroom in the rear of the restaurant and doubling seating capacity to 120. They also opened Angelo's on the Side, a coffeehouse next door, and built a bakery in back that physically links the two. Angelo's went from strictly being a family business to one with 25 employees — though a strong family presence remains.
Angelo's also remains a tradition for the community. In the late 1980s, a group of about 10 U-M students would eat at Angelo's a few times a week, Vangelatos said. "They graduated and moved away, and many of them became successful. But they come back once or twice a year to eat here. And now their kids have started to come."
The hunt for Michigan's best breakfast joint is already under way. Come check out the fun as MLive reporter John "Gonzo" Gonzalez visits three Washtenaw County spots on Tuesday.