Posted on
Fri, Mar 8, 2013 : 7:45 a.m.
Michigan's Best Breakfast Joint: Statewide finalists, schedule for March 11-15
By AnnArbor.com Staff
By John Gonzalez
MLive statewide entertainment reporter
Ambitious? Crazy? Insane?
I'm not sure how to describe the search for Michigan's Best Breakfast Joint, which will take me to 27 restaurants over 5 days in cities throughout Michigan.
It's our first search of 2013.
We did it last year for Michigan's Best coney dogs, BBQ, ice cream parlors and haunted houses.
Now, the search is on for the best breakfast joint!
Want more Breakfast Week videos?
We're looking for those places that serve up the best biscuits and gravy, waffles, omelettes, pancakes, eggs, sausage, bacon and anything else that makes a great breakfast.
Our list of finalists was put together by your votes, as well as input from our local entertainment writers. In a couple polls we had some issues with voting; those circumstances were factored into our final decisions.
The bottom line: This is supposed to be a fun search, and a great way to learn about the state's best breakfast joints.
As I said, this is an ambitious list. We encourage you to come out, say hello and meet members of our team.
And maybe help me finish my bacon.
If you have questions, feel free to email me: gonzo@mlive.com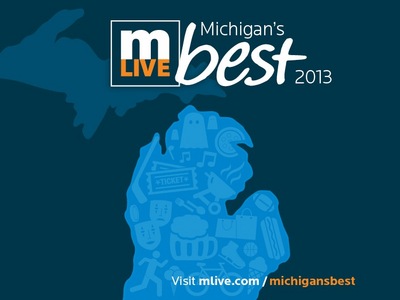 Monday, March 1
1
Bay City
*Krzysiak's House, 6:30-7:15 a.m.
Flint
*The Laundry-Fenton, 8:15-9:15 a.m.
*Krystal Jo's, 9:15-10:15 a.m.

Saginaw
*Tim's Tony's Restaurant on Center in Saginaw Township, 11-12 noon
*Fuzzy's Restaurant on Court in Saginaw, 12-1 p.m.
*Savoy Bar & Grill, 1-2 p.m.

Bay City
*Mussell Beach Drive In, 2:30-3:30 p.m.

Tuesday, March 12
Ann Arbor
*Angelo's, 6-7 a.m.
*Northside Grill, 7-8 a.m.
*Nick's Original House of Pancakes, 8-9 a.m.

Detroit area
*The Hudson Cafe, downtown, 10-11 a.m.
*The Original Pancake House in Grosse Pointe Woods, 11:30-12:30 p.m.
*Toast in Ferndale, 1-2 p.m.

Wednesday, March 13
Muskegon
*Suzie's Village Inn, Fruitport, 6-7 a.m.
*Tootsie's, Muskegon, 7:15-8:15 a.m.

Grand Rapids
*Anna's House, 9-10 a.m.
*Wolfgang's, 10:15-11:15 a.m.
*Real Food Cafe, Alger Heights, 11:30-12:30 p.m.

Thursday, March 14
Jackson area
*Grass Lake Diner, Grass Lake, 6-7 a.m.
*Roxy Cafe, Jackson, 7:30-8:30 a.m.
*Wooden Spoon, Jackson, 8:30-9:30 a.m.

Lansing
*Leslie Depot Diner, Leslie, 10-11 a.m.
*Mike's Village Restaurant, Dimondale, 11-12 p.m.
*Golden Harvest, Lansing, 1:30-2:30 p.m.

Friday, March 15
Kalamazoo
*Food Dance, 7:30-8:30 a.m.
*Crow's Nest, 8:30-9:30 a.m.
*Full City Cafe, in Portage, 9:45-10:45 a.m.

On March 19 I will announce Michigan's Best Breakfast Joint, as well as my Top 10 ranking.
Email John Gonzalez at gonzo@mlive.com
Or follow John on Twitter at Twitter.com/MichiganGonzo
On Facebook at Facebook.com/GRGonzo