Posted on
Tue, Jul 23, 2013 : 3:06 p.m.
Washtenaw County whooping cough cases top 100
By Chelsea Hoedl
Washtenaw County steadily continues to see new cases of whooping cough reported despite the school year being over.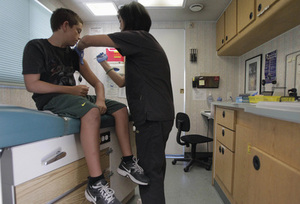 Whooping cough, also known as pertussis, is caused by close contact with someone infected and is typically transmitted among school-age children, although adult cases do occur.
As of Tuesday, there have been 104 cases of confirmed and probable whooping cough this year. According to Washtenaw County Public Health Department, this is about four times the number of cases typically seen in a year in the county.
"Since school got out we've probably seen another 25 cases," epidemiologist for Washtenaw County Public Health Laura Bauman said. "In 2010, which was our last big outbreak, we had a similar amount of cases break out in the summer as well."
Bauman said she had hoped with school letting out, the number of cases would decrease because there wouldn't be as many kids congregating together and passing along contagious infection.
"Most kids are in some kind of summer programming and so we continue to see it spread," Bauman said.
In 2012, there were 28 cases of whooping cough and in 2011 there were 26. Bauman said the number of cases so far this year is on track with 2010 , when there were 232 confirmed cases.
"We're at a similar number and we're just going to have to wait and see if it burns itself out," Bauman said. "In 2010, there were about 40 cases in September and another 40 in October. Hopefully we won't see as many this fall."
In the state of Michigan there are 358 reported cases.
"Washtenaw County is making up essentially a third of the cases in the whole state," Bauman said. "Often times whooping cough doesn't circulate equally across a whole area. We're seeing a much more intense breakout."
Bauman said the reason why Washtenaw County is seeing such a high number of cases is because the vaccine being given to children only offers 80 percent coverage and about 9 percent of children in Washtenaw County don't have one or more of the recommended vaccines.
WCPHD is encouraging heightened awareness and alertness for symptoms, as early treatment with antibiotics can prevent the spread of illness and make the infection less severe. Vaccination also may prevent pertussis.
Pertussis is a highly contagious disease of the respiratory tract, which got its more common name from the "whooping" sound an infected person sometimes makes when trying to breath after a coughing spell.
According to WCPH, symptoms often appear like those of a common cold, but a doctor should be contacted if an unusual cough persists for seven days or longer, if coughing comes in bursts or if there is vomiting after coughing spells.
Whooping cough can cause serious illness for those of all ages, but it is most dangerous for children less than 1-year-old and the majority of deaths from whooping cough occur in infants younger than two months of age.
Early detection, vaccination and staying away from others until five days of antibiotics have been received is essential to preventing the spread of whooping cough, according to the WCPHD
For more information visit Washtenaw County Public Health's website.
Chelsea Hoedl is an intern reporter for AnnArbor.com. She can be reached at choedl@mlive.com.