Posted on
Fri, Feb 1, 2013 : 5:57 a.m.
Why snowplows weren't on Ann Arbor freeways before Thursday's rush hour
By Cindy Heflin
The snow that made Ann Arbor roads and freeways treacherous Thursday came too late to call in Washtenaw County Road Commission trucks earlier than normal, the agency's director of operations said Thursday afternoon.
Drivers already were on their way to start their normal 7 a.m. shifts when the snow arrived in most areas, Jim Harmon said.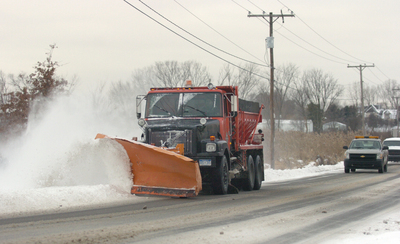 AnnArbor.com file photo
"This storm basically arrived at the rush hour and coincided with our drivers coming into work," he said.
Also, Harmon said, the intensity of the storm and the amount of snow it left had not been anticipated. "The forecast that we had yesterday did not identify the degree of lake effect snow that we had."
About 2 inches of snow had accumulated in the Ann Arbor area before the morning rush hour was over.
The snow sent drivers slipping, sliding and crashing into one another, especially on freeways. Multiple crashes were reported on Interstate 94 and U.S. 23, with the worst in the Washtenaw County area on U.S. 23 near Milan. A pileup of cars, trucks and semis shut the freeway for a few hours.
In Detroit, a multi-vehicle crash in whiteout conditions on I-75 killed three people and closed the southbound lanes of the freeway for much of the day.
Harmon said people sometimes expect the road commission to salt roads ahead of a storm, but he said that doesn't work.
"We don't put salt on bare pavement," he said. "Traffic driving on that will blow it off into the ditch. It's a waste of material that costs $45 a ton. Taxpayers are funding that. We take that very seriously."
The salt needs moisture to begin to break down and do its work. Harmon said he drove on dry pavement on much of his drive into work Thursday morning.
In some cases, brine can be used to pretreat surfaces, but temperatures were too low Thursday morning for that to be effective, he said.
Salt begins to lose its effectiveness around 20 degrees, Harmon said, and takes much longer to work than it does at warmer temperatures.
Some drivers did report early Thursday, Harmon said, when snow began falling in southwest Washtenaw County around 6 a.m.
The Road Commission also extended its workday past the end of the regular shift at 3:30 p.m. to deal with continuing snow in the area. Some previously treated areas were refreezing, he said.
He noted it takes a while for drivers to salt and plow all the pavement on their routes. "We have 46 routes. Some of those are 25 to 45 miles long. It takes a while to get around."
Drivers can facilitate the process by slowing down and paying attention, he said. Drivers often report seeing texting or other cell phone use in cars. "Focus on the driving environment," he said.
Cindy Heflin is associate news director for AnnArbor.com. Contact her at 734-623-2572 or cindyheflin@annarbor.com or follow her on Twitter.