Posted on
Mon, Jul 9, 2012 : 6:04 p.m.
Willow Run Tea Party: Sarah Palin to 'give ears to our voice' during Saturday event
By Amy Biolchini
Together with Americans for Prosperity, the Ypsilanti-based Willow Run Tea Party Caucus is hosting former governor of Alaska Sarah Palin Saturday at an event at the Wayne County Fairgrounds in Belleville.
"I think (Palin's) voice will give ears to our voice," said Dennis Moore, a director of the Willow Run Tea Party.
The Willow Run Tea Party received confirmation that Palin would be attending late Monday morning, Moore said. "Patriots in the Park" from noon to 6 p.m. Saturday at the fairgrounds will also serve as the launch for the Van Buren Township Tea Party Caucus.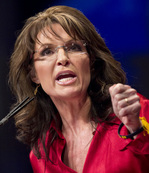 The Willow Run Tea Party has
previously sponsored controversial a TV ad campaign against Michigan Gov. Rick Snyder's bridge
from
Detroit
to
Windsor
, Canada, and
recently endorsed Republican Clark Durant in his bid to unseat Democratic U.S. Sen. Debbie Stabenow..
The bridge will be among the issues up for discussion at the event, along with what the party calls "socialized health care," gas prices, debt and unemployment rates, according to the event's site.
The Willow Run Tea Party recently announced its support of Larry Fix, a candidate for supervisor of Van Buren Township, which shares its western border with Ypsilanti Charter Township.
"This all came from our desire to do 'Patriots in the Park': To get locals in Van Buren to rise up and get Tea Party officials elected," Moore said of Palin's scheduled appearance at the event.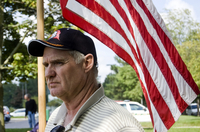 File photo I AnnArbor.com
The Michigan chapter of Americans for Prosperity is paying for Palin's appearance and for the space at the fairgrounds, Moore said.
Though details of Palin's contract have been speculated for years, staff from the Michigan chapter of Americans for Prosperity declined to comment on the amount Palin was being paid for the Saturday appearance.
"Governor Palin is going to help us inspire and energize grass roots activists as we work to defend our economic freedom during this crucial moment in our nation's history. 'Patriots in the Park' will demonstrate there exists a real and powerful grassroots movement focused on turning the tide in big government," according to a statement from Michigan Director of Americans for Prosperity Scott Hagerstrom.
The Americans for Prosperity group is non-partisan and advocates for economic freedom and limited government. Run by donations, the group has about 75,000 members in its Michigan chapter.
The "Patriots in the Park" event is free and open to the public. There is a $5 charge for parking. Organizations can pay $100 for a display table.
Dollar hot dogs will also be sold.
Moore said he expects at least 5,000 people will attend.
All proceeds from the event will go to the Fallen and Wounded Soldiers Fund, a non-profit, non-partisan, volunteer-run organization that provides support and assistance to U.S. veterans returning from Iraq and Afghanistan.
"We're immensely grateful for it," said board member Lynn Phillips.
The fund is one that has been publicly supported by U.S. Senators Carl Levin and Stabenow, both Democrats from Michigan, U.S. Rep. Mike Rogers (R-Brighton) and former U.S. Rep. Thaddeus McCotter (R-Livonia).
"It's really apolitical," Phillips said.
"When (Palin) heard it was for the Fallen and Wounded Soldiers Fund, she literally bent over backwards to clear her schedule," Moore said.
Moore said they chose the fund because of the volunteer staff and the help they give to Michigan soldiers.
"There's nothing more important than that fund," Moore said.
Palin will be among a list of speakers at "Patriots in the Park", including Hagerstrom, Michigan Sen. Patrick Colbeck, R-Canton, Troy Mayor Janice Daniels, UAW member and Union Conservatives founder Terry Bowman, Ann Arbor orthopedic surgeon and radio host Dr. David Janda and Pastor Levon Yuille of the Ypsilanti Bible Church.
Per Palin's contract, organizers are not allowed to reveal what time she will be speaking, Moore said.
Amy Biolchini covers Washtenaw County, health and environmental issues for AnnArbor.com. Reach her at (734) 623-2552, amybiolchini@annarbor.com or on Twitter.