Posted on
Wed, Oct 5, 2011 : 5:07 p.m.
Winter forecast for Ann Arbor: above average snowfall and bitter cold
By Cindy Heflin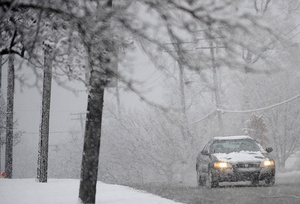 Melanie Maxwell | AnnArbor.com
Bitter cold, buckets of snow and a spring that's slow to arrive. That's the forecast for Ann Arbor and Southeast Michigan this winter, according to AccuWeather.com.
The Great Lakes and Upper Midwest will take the worst of winter's fury, with Chicago and Minneapolis getting hit the hardest.
"People in Chicago are going to want to move after this winter," AccuWeather.com long-range meteorologist Josh Nagelberg said.
But things don't look that much better for Ann Arbor, said Jack Boston, a senior meteorologist.
"I believe that you guys are going to get hit pretty hard in southeast Lower Michigan as well," Boston said.
Boston expects the average temperature in December and January to be 3 to 4 degrees below the normal average. In Ann Arbor, the average high for December is 35 and the average low is 20. In January, the averages are 31 and 15.
Alberta clipper storms, which move down from Canada, likely will drop 3 to 6 inches of snow on the area several times. Blasts of cold air are likely to follow, bringing days with high temperatures in the teens and possibly dangerous wind-chills.
Conditions will warm slightly in February with temperatures near the average high of 34 and low of 16, but a couple of larger storms dumping 8 to 12 inches of snow on the Ann Arbor area are likely, Boston said.
In an average winter, Ann Arbor usually totals 52 inches of snow. This year, expect 60 to 70 inches, Boston said. Snowfall in Ann Arbor was above average last year as well.
The cause for all this misery: the climate pattern known as La Nina. The phenomenon is caused by unusually cold waters off the western coast of South America.
If all this is not bad enough, the spring forecast is not much better. Remember this spring with its rain and lingering cold? We can look forward to much the same in 2012, Boston said.
For current conditions and weather forecasts anytime, check AnnArbor.com's weather page.