Posted on
Fri, Mar 2, 2012 : 5:58 a.m.
Winter of 2011-12 fifth warmest on record in Ann Arbor
By Cindy Heflin
You may not need the statistics to confirm it, but this winter has been one of the warmest on record in the Ann Arbor area.
The December-through-February period was the fifth warmest in Ann Arbor since 1880, the beginning of modern weather record keeping, said Dennis Kahlbaum, University of Michigan weather observer. December, January and February are considered meteorological winter.
The average temperature for the period was 32.4, 5.3 degrees warmer than the normal average of 27.1, Kahlbaum said. The warmest winter on record was in 1931-32, when the average temperature was 34.4. The coldest was in 1903-04 with an average temperature of 16.8.
The month of February also came in considerably warmer than normal, with an average temperature of 32.8, 5.2 degrees above the normal average of 27.6, Kahlbaum's figures show. The warmest February on record was in 1998, when the average temperature was 35.6. The coldest was 1885, with an average temperature of 10.9 degrees.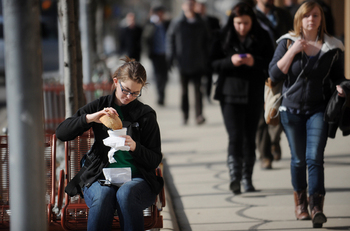 January was the
13th warmest on record
, and
December was the 12th warmest
.
The season turned out much differently than the forecasters at AccuWeather.com had predicted back in the fall, when they warned of bitter cold and above-average snowfall.
"Our forecast was quite wrong for your part of the country," said Jack Boston, expert senior meteorologist at AccuWeather.
Boston said forecasters were counting on the La Nina weather pattern to keep cold air in the Great Lakes area, but that didn't happen. "The cold air that came into the United States just went right out again," he said.
La Nina is a weather phenomenon caused by unusually cold waters off the western coast of South America.
The season was a bit snowier than you might remember, however, with 34.7 inches falling during the three-month period. Kahlbaum, who measures snowfall at a weather station on the University of Michigan's North Campus, said the winter ranked as 44th snowiest since 1880. The snow usually melted soon after falling, he said.
The snowiest winter was the December-February period in 2007-08, when 65.1 inches fell. The winter of 1965-66 ranks as the least snowiest on record. Only 3.4 inches fell that year.
So what can we expect for spring? Both temperature and precipitation are expected to be slightly above normal, Boston said. March especially is expected to be warmer than normal with an average temperature 2 to 2.5 degrees above normal.
That may not sound like a lot, but it is, Boston said. "Averaged over the whole month that means there are going to be some pretty mild days," Boston said.
Will the spring forecast come closer to the mark than AccuWeather's winter one did? There's no way to tell, Boston said.
"You can never predict what your accuracy is going to be. It's your best estimate of what you think will happen."
Contact Cindy Heflin at cindyheflin@annarbor.com or 734-623-2572 or follow her on Twitter. For updated forecasts and weather conditions any time, check AnnArbor.com's weather page.