Posted on
Thu, Feb 23, 2012 : 2:59 p.m.
Winter storm warning: Hazardous overnight travel, messy morning commute expected
By Cindy Heflin
Motorists be warned: A winter storm headed for Ann Arbor could result in very difficult travel conditions Thursday night and a messy morning commute Friday.
The National Weather Service issued a winter storm warning for Washtenaw County Thursday afternoon. There's even a possibility for thundersnow. Exactly how much snow we'll get depends on how the storm tracks, but it has the potential to be the biggest snowfall of the season so far. If the storm tracks more to the north, we'll get less snow; if it goes more to the south, we'll get more.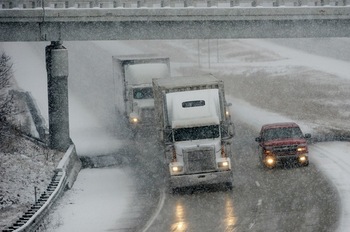 The storm warning is in effect from 10 p.m. Thursday to 7 p.m. Friday.
In the Ann Arbor area, the storm is expected to arrive Thursday evening with a mix of rain and snow, said Rachel Kulik, meteorologist with the National Weather Service in White Lake Township. It will change to all snow by about 10 p.m. with 2 to 4 inches expected to accumulate overnight. A few rumbles of thunder are even possible.
The Weather Service expects another 2 to 4 inches to fall during the day Friday with a storm total of about 6 inches. Snow is expected to end around 1 p.m. but blowing snow could continue to affect travel through much of the day Friday.
The Washtenaw County Road Commission is geared up for the storm's arrival, said Jim Harmon, director of operations, but he warned motorists may find hazardous travel conditions overnight, and depending on how fast snow is falling Friday morning, a challenging Friday morning commute.
"We just don't have the resources where we can have a full crew deployment 24 hours a day," he said. "Tonight if conditions worsen, motorists might just have to contend with that situation. "
Drivers are facing a long day Friday, and possible a long day Saturday as well to finish clean up. While drivers can work a double shift, the Road Commission must be careful not to push workers to the point that it's unsafe, he sad.
Road crews normally end their workday at 3:30 p.m. A four-person crew starts at 8 p.m., focusing on state trunk lines, which consist of interstates and major thoroughfares. Supervisors will be monitoring the forecast and conditions and may call in additional drivers at any time, Harmon said.
But officials must be wary of overworking drivers and need to plan to make the best use of available resources.
"We look at the storm in its entirety. We don't want to bring everything to bear at the beginning and burn ourselves out," he said.
Thursday afternoon, Harmon was expecting to call in crews in the early morning, probably 3 or 4 a.m. to get roads in the best possible shape for the morning rush hour. "But the storm could be intense enough during morning rush hour that we can't keep up with it."
Harmon said drivers would likely work all day Friday on major roads doing cleanup. He expects drivers will spend Saturday plowing gravel roads and subdivision streets.
Mike Samborn isn't convinced there'll be all that much snow to plow. "I don't think we're going to get a whole lot. It doesn't ever seem that we get nearly what they say."
Samborn works at Stadium Hardware on the west side of Ann Arbor. Customers there don't seem too worried. "I've seen one person looking at shovels but that's about it."
For updated forecasts and conditions anytime, check AnnArbor.com's weather page.
Contact Cindy Heflin at cindyheflin@annarbor.com or 734-623-2572 or follow her on Twitter.