Posted on
Tue, Nov 29, 2011 : 7:57 a.m.
Winter storm watch issued; 3 to 5 inches of snow now expected in Ann Arbor area
By Cindy Heflin
A blast of cold air headed for Ann Arbor is now expected to arrive sooner than expected tonight, boosting snowfall predictions and prompting the National Weather Service to issue a winter storm watch for tonight.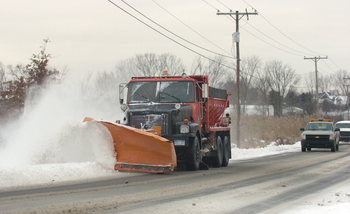 After a day of rain and possible flooding, forecasters now predict accumulations of 3 to 5 inches west of US-23 and 1 to 3 inches east of US-23.
For Washtenaw County, which is bisected by the highway, that likely means a snowfall total of somewhere between 2 and 4 inches, said Amos Dodson, a meteorologist with the National Weather Service in White Lake Township.
Earlier forecasts had expected anywhere from less than an inch of snow to 3 inches for Washtenaw County.
The watch advisory from the National Weather Service said 6 inches is possible in some parts of southeast Michigan if the changeover from rain to snow happens sooner rather than later, but Dodson said most of the accumulation will be on grassy areas and elevated surfaces, like bridges and overpasses.
"Ground surfaces are still fairly warm," he said.
Still, roads are expected to become slick and hazardous as the snow falls, and the weather service warns motorists to expect a slippery commute Wednesday morning. Dodson anticipates snow will begin to fall in the Ann Arbor area around 7 p.m.
When that happens, the Washtenaw County Road Commission will be ready, said Jim Harmon, director of operations. All equipment has been prepared for winter service and the county has a stockpile of salt on hand.
Workers will make sure all the fuel tanks in the commission's fleet of salt trucks are topped off and may preload the trucks with salt today, he said. A four-person crew as well as road commission supervisors will monitor conditions tonight and call in additional drivers as needed.
"We'll be monitoring the forecast very closely," Harmon said.
Before the snow comes, too much water is the immediate problem. The National Weather Service has issued a flood warning for Mill Creek in Dexter and a flood watch remains in effect for all of Washtenaw County and much of southeast Michigan through this evening. The weather service said Mill Creek was at 8.7 inches and rising early this morning and was expected to rise above its 12-foot flood stage by late this afternoon and crest at 13.5 feet Wednesday morning.
Rain will persist throughout the day and a precipitation total of about 2 inches for the storm system that began dumping water on the area Monday is expected by Wednesday morning.
After the storm passes Wednesday, skies will clear, but colder temperatures will remain, with the high struggling to make it to 40 degrees.
For updated conditions and forecasts anytime, check AnnArbor.com's weather page.