Posted on
Thu, Jan 31, 2013 : 12:25 p.m.
Winter weather advisory extended; up to 4 inches of snow expected in Ann Arbor area
By Cindy Heflin
The National Weather Service has extended the winter weather advisory for the Ann Arbor area until 7 p.m. Thursday.
Forecasters said snow squalls are expected to produce about 2 inches of snowfall and up to 4 inches in some areas. Snowfall rates could exceed 1 inch per hour in areas affected by the most intense snow bands, the weather service said.
Visibility will be reduced to less than one-quarter mile at times. Road conditions could deteriorate rapidly in those areas, forecasters said.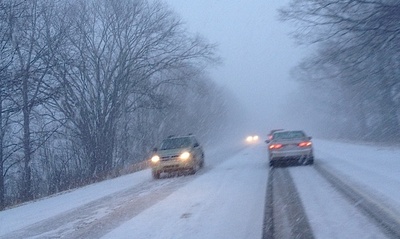 John Counts | AnnArbor.com
The advisory issued earlier had been set to expire at 1 p.m.
Bands of lake effect snow moving across southeast Michigan caught drivers by surprise earlier Thursday morning, resulting in numerous crashes, including a multi-vehicle crash on Interstate 75 in Detroit that killed three people and shut the freeway.
Another multi-vehicle crash closed U.S. 23 near Milan Thursday morning, but no serious injuries were reported in that crash. The crash was first reported about 6:30 a.m. on southbound U.S. 23 between Carpenter and Plank roads, Huron Valley Ambulance spokeswoman Joyce Williams said. A car was stuck under a semi and the driver required extrication, Joyce Williams with HVA said.
Milan firefighter Greg Brierley said eight to 12 vehicles were involved in the crash and other crashes then occurred north and south of the first crash. HVA transported two people to the University of Michigan Hospital and one to St. Joseph Mercy Hospital, Williams said.
An ambulance from out of the area also was involved in the crash, Williams said. "They happened to be on the road," she said.
Three other patients were transported to the University of Michigan Hospital in stable condition. There was an ambulance from out of the area involved in the crash. The ambulance was not responding to the crash. "They happened to be on the road," Williams said.