Posted on
Thu, Mar 8, 2012 : 5:26 p.m.
Women's Day protesters: Ann Arbor's spending on public art shows misplaced priorities
By Ryan J. Stanton
A group of about a dozen men and women in Ann Arbor celebrated International Women's Day on Thursday afternoon by protesting in front of city hall.
Standing in front of a public art sculpture the city recently had installed for $750,000, Ann Arbor resident Odile Hugonot-Haber held up a sign criticizing the expenditure.
"The city spent $1 million on phallic art: SafeHouse is underfunded," the sign read.
"They should think about the art and what it says," she said, adding she's not really offended that the sculpture, in her opinion, has a phallic appearance.
"It's the whole concept of spending so much money on something that is not really good looking in front of that ugly building."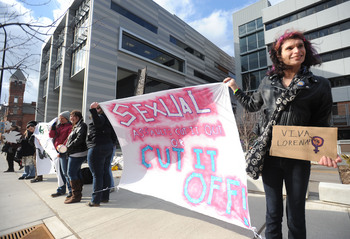 Angela Cesere | AnnArbor.com
The protesters are part of
Occupy Ann Arbor
and used their platform along Huron Street to call attention to what they believe to be an underfunding of community services like SafeHouse Center, a nonprofit agency that provides support for victims of domestic violence and sexual assault.
Chelsea Bates, a University of Detroit Mercy biology student who has been working with Occupy Ann Arbor, held up a sign with a reference to Lorena Bobbitt, the woman who gained international notoriety in 1993 when she severed her husband's penis with a knife.
"We have people here who have been sexually assaulted and have been a victim to domestic violence, and what we're basically saying is cut it out or cut it off," Bates said.
Long-time political activist Alan Haber, husband of Odile Hugonot-Haber, said it's important that men stand by women on International Women's Day.
"This is a time particularly for men to realize this unjust system we live in, the patriarchy, and it's time to put our hearts with women and turn this around and make partnerships rather domination," he said, decrying what he believes to be an underfunding of community services.
"You call up SafeHouse, you're in an emergency, there's no room," he said. "And yet people see here's a $1 million piece of sculpture. Where are the priorities?"
Haber held up a a dove-shaped cardboard cutout painted white to symbolize peace. Other signs scatted on the ground nearby carried slogans like "Lock up abusers and rapists, not addicts," and "Never another battered woman."
Sgt. Paul Curtis of the Ann Arbor Police Department stepped outside the city's Justice Center and chatted with protesters at about 4 p.m. He removed several signs the protesters had tied to the public art sculpture, saying signs aren't allowed to be affixed to public property.
"I just gave them some general guidelines for what's permissible when you're out protesting and demonstrating," Curtis told AnnArbor.com. "They're all friendly. No issues."
Ryan J. Stanton covers government and politics for AnnArbor.com. Reach him at ryanstanton@annarbor.com or 734-623-2529. You also can follow him on Twitter or subscribe to AnnArbor.com's email newsletters.