Posted on
Mon, Apr 25, 2011 : 5:57 a.m.
Work set to begin on $16 million housing project renovation in Ypsilanti
By Tom Perkins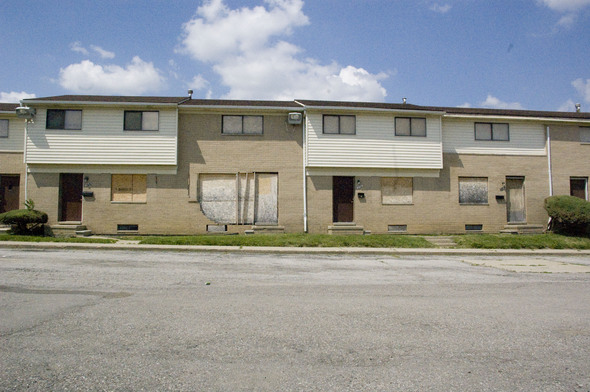 Tom Perkins | For AnnArbor.com
The "
Gateway to Ypsilanti
" will reach another important marker in its long turnaround on Tuesday.
Key players in the former Parkview Apartments housing project's ambitious $16 million redevelopment will gather from 3 to 5 p.m. at the complex — now called Hamilton Crossing — for a groundbreaking ceremony.

Work is expected to begin this May, and officials are hopeful residents can begin moving back into the abandoned complex at the corner of South Hamilton and Harriet Streets by the end of 2011.
The ceremony comes after the city Planning Commission approved site plans for the project on Wednesday night. It also comes nearly a year after a settlement ended six years of litigation among multiple parties over the complex's fate.
Plans call for the renovation of 17 buildings and the demolition and rebuilding of two others. Each unit will see a full makeover and receive new drywall, floors, appliances, kitchens, bathrooms, front patios and back decks. Bricks will be re-stained, new siding installed, new rooflines created and, in some units, bay windows installed.
Several buildings will be made handicap accessible. Outside the buildings, new sidewalks will be installed, along with three new playgrounds. New landscaping is planned throughout the complex, including a berm set between the property and Hamilton Street. Plans are also in place to expand the community center by 2,000 square feet.
City Planner Teresa Gillotti said planners were aware of the complex's history during the design process and wanted to make Hamilton Crossing look "dramatically different" from Parkview Apartments.
"We really want to change the physical impact of the buildings so it looks brand new," she said.
Planners are moving ahead with phase two of the project because they were able to secure funding for it quicker. In that that phase, 74 "affordable housing" units will be completed and made available to people with low to moderate incomes.
Vicki Vaughn, a spokesperson for the project's developer, Chesapeake Community Advisors, said the way in which affordable housing is calculated in the area would allow for a working family earning $50,000 annually to live in Hamilton Crossing.
In the next phase, 70 units are slated for renovation and will be available to residents with section 8 housing vouchers.
One of the last significant steps in the complex's recent history came last June, when the Ypsilanti City Council approved the purchase of the Hamilton Street complex by the Ypsilanti Housing Commission.
The sale to the housing commission from the U.S. Department of Housing and Urban Development was part of a settlement approved last May by U.S. District Judge Victoria Roberts between the Parkview Tenants Association and HUD.
Since then, the housing commission and Chesapeake have worked to secure grants and private investment to fund the project.
Chesapeake will receive $5.7 million — approximately $40,000 per unit — in an immediate HUD Up-Front grant that will be split between the project's two phases.
The Washtenaw County Office of Community Development is contributing an additional $500,000 in grants, including $460,000 for the first phase and $40,000 for the second phase.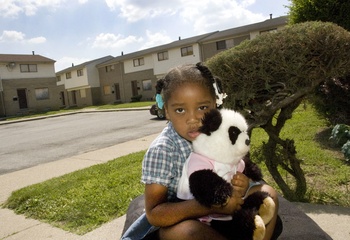 Tom Perkins | For AnnArbor.com
The project's second phase, which is getting underway first, is also funded by $988,000 in federal tax credits made available through the
Michigan State Housing Development Authority
. Those credits were purchased by
Boston Financial
, generating $7.2 million in capital. Because that equity won't all come up front, Key Bank also loaned $4.2 million for construction that will be quickly repaid by Boston Financial.
Phase one of the project will utilize a $3.5 million Federal Housing Authority loan. No timeline is available on when phase one construction might begin.
The groups have also worked to set up a system of safeguards to ensure the same issues that plagued Parkview aren't repeated. Ypsilanti Mayor Paul Schreiber, a former housing commission chairman, said he is confident the same abuses and issues that led to Parkview's deterioration won't be repeated.
Former tenants alleged they paid money toward utility bills, but the management company never made paid the Ypsilanti Community Utility Authority. The complex's water was shut off on several occasions. Under the May settlement, HUD agreed to pay all outstanding utility bills and $700,000 in back taxes.
Residents also complained about sewage back-ups, plumbing problems, mice, animals in the ceilings, holes in the walls and ceilings, flooding and mold. Crime and drugs were a serious issue until most people moved out. At the time of the complex's closing last summer, around 20 units out of 144 remained occupied.
Overall there was a lack of accountability Schreiber said won't exist now.
As part of the arrangement, the new management company will report directly to a Hamilton Crossing governing board comprised of three housing commissioners, Schreiber and a community member. Schreiber said he hopes the board will expand to include someone with management experience.
Schreiber said greater oversight will also come from the investors and developers. Chesapeake has a long-term interest in the project, and isn't simply leaving after the renovation, Schreiber said.
"The investor will be a partner for 15 years, so there will be more oversight," Vaughn said of Boston Financial. "They are interested in being sure that the units are rented to the right folks and the property is maintained."
A third safeguard in place is greater oversight by city council. As part of the sale agreement between the Housing Commission and HUD, the Ypsilanti City Council must approve the management company's contract. If problems with management are reported, council can force a change.
Schreiber said the community will also benefit from housing residents with a wider range of incomes.
"There are a lot of winners here and a lot of things to be thankful for all the way around," Schreiber said.
U.S. Rep John Dingell, who played a significant role in the project, will attend the groundbreaking.
Tom Perkins is a freelance reporter for AnnArbor.com. Reach the news desk at news@annarbor.com or 734-623-2530.